The unexpected weather condition was due to an impact of the low pressure trough across the Northern region.
The wave of downpour resulted in serious flooding and traffic congestion on many inner roads of Hanoi city during the rush hour.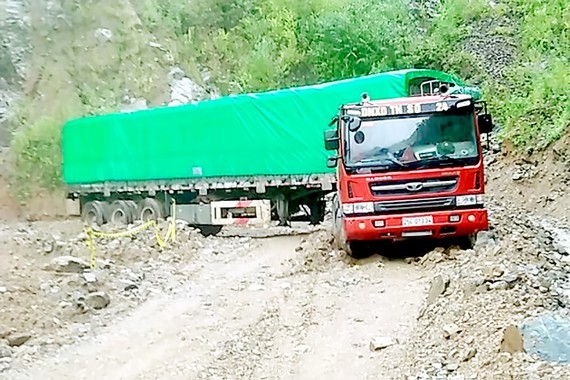 Downpour results in interrupted traffic
In Tuyen Quang province, one person has died and two remain missing in the flooding. Besides, the flooding downpour completely destroyed four houses, more than 21 hectares of rice and flower crops, fruit trees; swept away more than 2,050 meters cubic of soil and rock; made landslide at Thuong Giap and Hong Thai communes in Na Hang District.
In the Northern mountainous province of Lai Chau, the downpour swallowed around 80 square meters of land, causing interrupted traffic.
A person was killed by lighting in Bac Kan province.
Statistics showed that there were 300 flood- hit houses and schools and more than destroyed 50 hectares of rice crops caused by a downpour night across Ha Giang province.
Amid the weather condition, the Standing Office of National Steering Committee for Natural Disaster Prevention and Control issued a alert for heavy rain even asked flood-hit localities to inspect low-lying areas, houses along riversides and reservoirs in order to be ready for evacuation in case of unpredicted natural disaster.
Wave of flooding pours Southern region

The National Hydrology Meteorology Forecast Center has just issued the weather news of floodwater level at the upstream and middle reaches of Mekong River on its website.

The water level at the upstream Nine Dragon ( Cuu Long) river is rising rapidly and is expected to keep rising significantly with an impact of flood and high tide.

By September 15, the highest water level on Tien river at Tan Chau Station would be able to reach 3.5 meters, and on Hau river at Chau Doc Station is forecast to reach 3 meters.

Risks of flooding and landslide are warned in the lowlands along riversides of An Giang and Dong Thap provinces.

Meanwhile, the Northern mountainous region is currently bracing heavy to heavy downpour days due to an influence of the low pressure trough.

The powerful operation of the low pressure trough in combination with the southwest monsoon caused foehn wind effect and back to back hot waves on the large scale in the Central provinces from Thanh Hoa to Phu Yen.

The highest temperature in the places remained at 37 degrees Celsius.

The scorching weather is expected to last until the next couple days.