One more damaged cold is predicted to hit the northern and north central provinces of Vietnam on January 31, reported the National Hydrology Meteorology Forecast Center yesterday.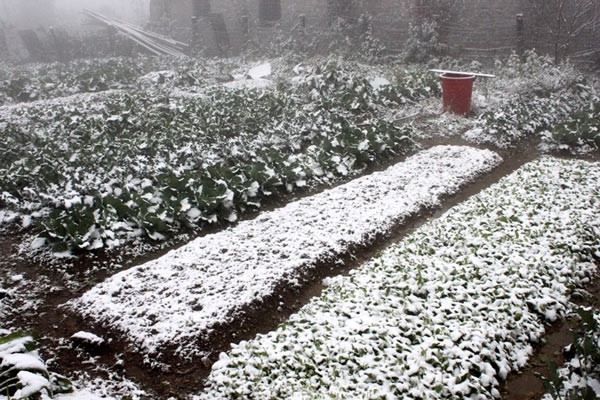 Hectares of the seasonable vegetable and flower crops are destroyed by cold front. (Photo:SGGP)
By February 2- 7, the cold spell will affect directly to both the northern and north central region on the large scale with the daytime temperature keeps at less than 13 degrees Celsius.
Because of the influence of the cold air, the lowest temperature in the northern midland and delta region will be 10- 12 degrees Celsius, at 4- 7 degrees Celsius at the mountainous areas. From February 2, the weather phenomenon of ice and freezing is going to appear in the northern mountainous provinces with the lowest temperature of 2- 3 degrees Celsius.
According to the Ministry of Agricultural and Rural Development, the northern and central provinces were troubled with record cold spell last week, causing serious damage to ornamental plants, seasonal flowers, animals and cattle. At present, local authorities and functional forces have helped local residents quickly stabilize their lives, production, cultivation and breeding.
Head of the Plant Cultivation Department Ma Quang Trung said: "Currently, cold-effected farmers have troubled with rice seeds. The cold weather destroyed around 8, 472 hectares of rice seeds, including 4, 103 hectares in Ha Tinh and 4, 100 hectares in Lao Cai.
According to the latest weather news from the Central Steering Committee of Natural Disaster Prevent, East Sea and the south central territorial waters saw level 9- 10 northeast monsoon. Big waves destroyed 700 meters at La Gi Estuary