By the evening of January 28, the cold air is expected to impact to the northern, north- central and mid- central provinces on the large scale.
Because of its strong operation, some places in the north and north- central region will see rainy weather. The lowest temperature in the east- northern region is warned to drop down 11- 13 degrees Celsius, even belows 9 degrees Celsius in mountainous area.
From January 29, capital of Hanoi will experience small rainfall, damaging cold with the minimum temperature of 12- 14 degrees Celsius.
The Gulf of Tonkin, the northern territorial waters of the East Sea including the Paracel Islands will catch the powerful wind of level 5-8 and sea rough from this evening.
On January 30 ahead of near Tet, the cold spell is predicted to operate stronger, causing dangerous cold and frost occurrence in the northern and north- central mountainous areas.
The National Hydrology Meteorology Forecast Center has issued a latest weather news of the west- north, east- north region including Hanoi capital at the mid-night of January 28.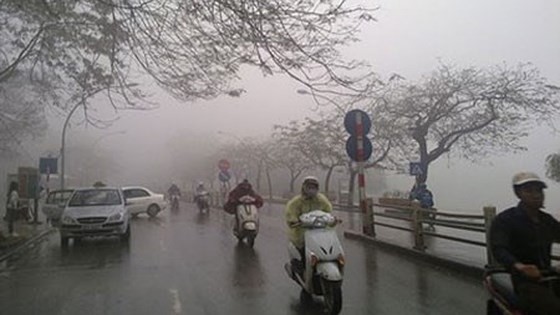 Illustrative photo:SGGP
Accordingly, the areas will suffer slight wind, cold weather, air humidity of 65- 97 percent, the temperature of 16-19 degrees Celsius, deep cloud and small rainfall.
The provinces from Thanh Hoa to Thua Thien- Hue, from Da Nang to Binh Thuan will experience deep cloud, slight wind, average humidity of 57- 95 percent and temperature of 19- 24 degrees Celsius.
Both Central Highlands and the southern region will see cirrus cloud without rain, the powerful wind of level 2-3, average humidity of 55- 95 percent and temperature of 18- 26 degrees Celsius.