A cold front moving in from the north has caused Typhoon Parma to intensify, belying forecasts that it would weaken into a tropical low pressure zone, and the storm is now expected to make landfall over north-central and northern Vietnam.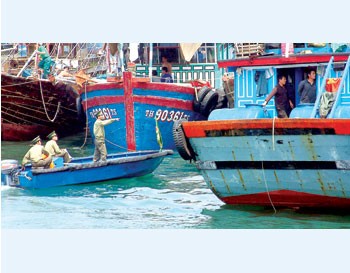 Troops guide fishing boats to safety from Typhoon Parma in Bach Long Vy Island, Hai Phong (Photo: SGGP)
Bui Minh Tang, director of the National Hydro Meteorological Forecast Center, said provinces from Thai Binh to Thanh Hoa would bear the brunt of the typhoon which would pack winds of up to level 10 and gusts of up to level 12.
Nearby places like Quang Ninh and Hai Phong will also experience level 10 winds.
On October 13 coastal provinces to the east of the Red River Delta received light to medium rains and they are likely to strengthen.
Around 20,446 vessels with 68,262 fishermen on board are still at sea in the region between Quang Ninh to Thua Thien-Hue.
At a meeting presided over by Deputy Prime Minister Hoang Trung Hai on October 13, the Central Steering Committee for Flood and Storm Prevention and Control said the storm would be centered in the Red River Delta provinces of Ninh Binh, Nam Dinh, and Thai Binh when it makes landfall, requiring around 30,000 people there to be evacuated.
Mr. Hai instructed authorities in these provinces to complete the evacuation by 10pm on October 13.
He also ordered relevant ministries and departments to prepare for heavy rains and flooding.
Provincial authorities should also closely consider the specific weather conditions in their areas rather than depending completely on forecasts, he said.
He ordered the steering committee and the National Committee for Search and Rescue to dispatch officials to provinces like Quang Ninh, Hai Phong, Thai Binh, Thanh Hoa, and Nghe An to persuade local residents to speed up preparatory work.
In an emergency dispatch October 13, Prime Minister Nguyen Tan Dung ordered authorities in coastal provinces from Quang Ninh to Ha Tinh to prohibit all boats from going out to sea and help those still at sea avoid the typhoon.
He also told them to ensure people are moved out of aquaculture farms when the storm makes landfall and coordinate with the army to evacuate people out of flood and landslide prone areas.
They should help people safeguard houses, schools, and hospitals, he said.