A cold front about to slam the northern region will help ease the hot and sultry weather prevailing in the northern and central regions for the past week.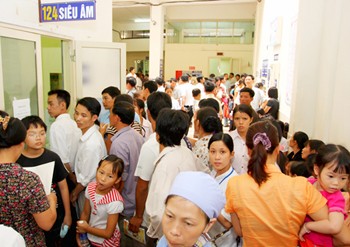 Numbers of child patients increased in the National Children's Hospital due to the heat wave on July 7 (Photo: SGGP)
The cold front will trigger showers and scattered thunderstorms across Hanoi and the northern region by tonight. Mercury will slide to 31-34 degrees Celsius.
 
Meanwhile, the central region will also see some respite from the present hot weather with temperatures hovering around 35 and 37 degrees.
According to the National Weather Center, the heat wave over the last week was at its peak yesterday when the temperature soared to 40 degrees Celsius. This was caused by a hot low pressure zone developing in the west, creating hot and dry winds.
Temperatures in several areas in Ha Noi, Hoa Binh, Lang Son, Thanh Hoa, Nghe An and Ha Tinh Province exceeded 39 degrees C.
This was a record heat wave since the beginning of the year, sending residents in Hanoi rushing to buy air conditioners.
Vu Duc Viet, a staff member at the electronic shopping center said that just yesterday, the number of customers buying air conditioners had rocketed by 50 percent.  Many people even purchased power generators and chargeable fans and batteries as they were afraid of power shutdown.
Tran Van Chien, chairman of a pig breeding cooperative in Son Tay District of Hanoi said that they struggled to save the pigs from dying due to the parched heat wave conditions. All electricity generators, steam fans and air conditioners were mobilized to keep the pigs cool. Last year, his farm lost hundreds of pigs due to similar heat conditions.
The scorching weather caused more children to fall sick and many more showed up at hospitals for health checks and treatment. By late afternoon, the National Children's Hospital was crowded with parents and sick children.
A similar situation prevailed in other hospitals in Hanoi like Bach Mai, Saint Paul and Thanh Nhan and general hospitals in Hoa Binh, Nam Dinh and Nghe An Province. The numbers of child patients was 30-40 percent higher than normal.