According to the Department of Natural Disaster Prevention in the Central Region and Central Highlands, the ninth typhoon-Tokage yesterday weakened into a tropical low pressure in the central territorial water with its peak wind of level 6- 9.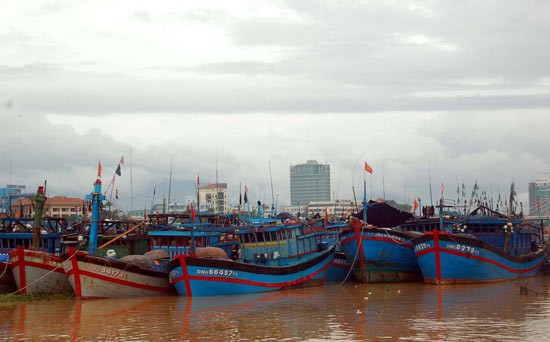 All fishing boats were moved to safe places in order to avoid the tropical depression.
By yesterday afternoon, the central provinces required all tourist and fishing boats to move safe places in order to actively deal with the worst situation may be caused by the tropical depression.
The central coastal provinces from Quang Binh to Khanh Hoa instructed 42,469 vessels and 89,825 fisherman offshore to anchor in Philippines to avoid the damaged weather.
However, there are 613 ships with 4,957 fishermen who are still working in the Hoang Sa (Paracel) and Truong Sa (Spratly) archipelagoes.
The National Hydrology Meteorology Forecasting Center reported that a cold air continues strongly operating in the northern mountainous region of Vietnam; it is forecast to cause long- lasting dry & cold weather, rapid reduction of air moisture in next days. Thereby, the northern localities and people need to be careful for forest fire.