The current extremely dangerous cold affecting to the northern region has damaged production, crops and caused death of tens of cattle.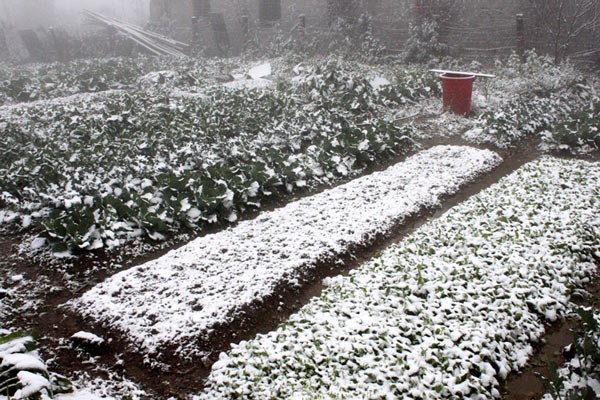 Snowfall covers the vegetable crops.

The Steering Committee for Natural Disaster Prevention, Search and Rescue reported: "The strongest cold air caused dangerous cold and snowfall on the large scale affecting to plants, animals and cattle. Particularly, the cold front caused death of 65 buffaloes, cows, and frozen 205 hectares of flower and vegetable".
 
According to the latest weather news from the National Hydrology Meteorology Forecast Center, the daytime temperature in the northern region has dropped sharply below 10 degrees Celsius; especially kept at less than seven degrees Celsius in Hanoi.
 
Meanwhile, the lowest temperature at Pha Din mountain pass, Lai Chau and Sa Pa reached at minus 4 degrees Celsius. The highest temperature in the tourism area of Mau Son was at minus 3 degrees Celsius; and 5 below zero degree Celsius at Moc Chau.
 
Thickness of ice and freezing  was at 5- 6 cm causing difficult driving condition on road for all vehicles.
Dealing with the weather condition, local authorities instructed functional forces to adopt preventive measure against the natural disaster, and help residents overcome the devastation.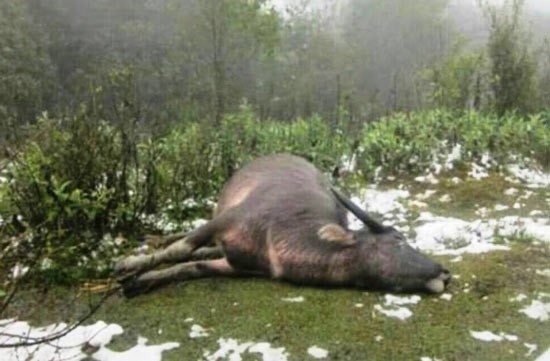 Buffaloes have recently died due to the extremely cold weather.