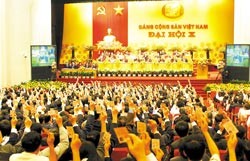 Voting during the 10th National Party Congress
As the country's highest political institution, the Tenth Party Congress was successful as it did everything possible to accelerate the country's renovation. Following are the most significant successes.
First, democracy in Viet Nam has brought more practical consequences. Late President Ho Chi Minh said democracy meant that the people had the rights to speak.
During the 10th National Party Congress, the Vietnamese people really enjoyed the rights. There were widespread discussions in the public about the draft political reports for the Congress. Democracy was practiced with discussions of the people and the Congress delegates. These discussions have helped improved policies, thus promising many big benefits for the country.
Second, the Congress made a very important supplement in the role of the Party: the Party also represents the Vietnamese people besides the working class. The Vietnamese people came into being thousands of years before the forming of social classes, and the working class is just part of the Vietnamese people. Representing the entire Vietnamese people, the Party will become stronger in the global integration process.
Third, the Congress gave the green light to Party members to do business in the non-state economic sector as regulated by the laws. This will benefit the society because:
1. Party members' businesses will create more jobs and property.
2. Party members will get more business knowledge and expertise, which will improve the Party's leadership in developing the Vietnamese economy – a significant task in industrialization, modernization and the global integration process.
3. When Party members do their own businesses, other people will place more trust in the Party's leadership and expand their business. They trust economic development policies that encourage the participation of different sectors. There will be no longer discrimination against owners of private businesses because among them are Party members.