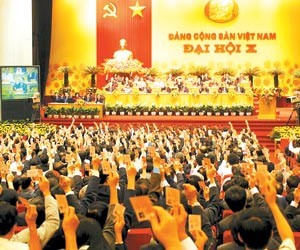 Candidates are voting for the 10thPCEC
The list of candidates for the election of the 10th-tenure Party Central Executive Committee (PCEC) includes 207 candidates for official PCEC members, of whom two are self-nominators, and 46 for alternate members.
The list was adopted by the Congress in the morning of April 23, and a 39-member committee taking charge of counting ballots, chaired by Mr. Nguyen Van Yeu, was also elected. In the afternoon, the Congress voted for the 10th-tenure PCEC.
On April 24, the presidium will deliver a report on the delegates' ideas over the tenth Congress documents and vote for the approval of the Congress document. Later, the committee in charge of counting ballots will announce the result of the election for the 10th-tenure PCEC.
After that, the Congress will collect delegates' ballots for the position of General Secretary among 160 newly-elected official members of the Central Party. The Presidium will compile the result, so that a report will be read at the first meeting of the 10th PCEC.
The first meeting of the 10th will elect the Politburo, the Secretariat, the Central Supervision Committee (CSC) and the head of CSC. After the result of the election for the Politburo is announced, the 10th-tenure PCEC will vote for a General Secretary among newly-elected Politburo members.
In the morning of April 25, the list of the tenth PCEC, the Politburo, the Secretariat and the General Secretary will be announced. The 10th-tenure General Secretary will hold a press briefing after the closing session.