On the seventh working day of the 10th National Party Congress, Mr. Nguyen Phu Trong, Politburo member, delivered the answers to delegates' feedbacks for the Congress Documents.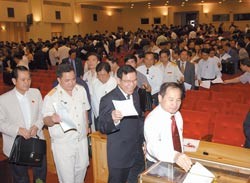 Delegates cast their ballots for the position of Party General Secretary

Improving the Party's leadership and capacity for struggle: First factor


Referring to delegates' opinions on the Congress theme, Mr. Nguyen Phu Trong said that Congress theme defines main tasks in each specific period; thus, it should be concise and clear, focusing on the most important issues. The theme should not include the whole content to avoid instances of distractions.

At present, improving the Party's leadership and combative capacity is the first factor of great significance. We should maintain the Party's leadership and Party building, making the Party intelligent, clean and strong. Improving its leadership capacity means improving the capacity of policy-making and implementation.

Anti-corruption: Party Central Committee should be leading force
On the fight against corruption, Mr. Nguyen Phu Trong stated that the Party realized serious corruption in many branches and fields, even in some judicial protection bodies as happened in PMU18 case. The case proved serious deterioration in terms of ethics and lifestyle of some cadres and Party members, loosened State management and weaknesses in policy implementation, especially in inspection and supervision.

"A bitter lesson is open to all of us in terms of State management, Party building, personnel usage and bad effect of bureaucracy. The State and Party will not conceal such mistakes; in contrary, we are determined to strictly punish offending individuals and organizations, regardless of their positions. The Presidium also agreed that the Party Central Committee should be leading force in this struggle", added Mr. Trong.

Party members are allowed to do business in private sector
Mr. Trong stressed that this important matter has been mentioned for years, concerning Party policies. Party members who enrich themselves and their families contribute to the development of the whole society. This was approved by the majority of people and organizations, and considered as an important step of awareness after 20 years of Reform. Therefore, Party members are allowed to do business in private sector under the law, State policies, Party rules and some general conditions.
In fact, the number of Party members running their own business is still small. Most of them are retired workers from state offices or enterprises, or soldiers who no longer serve military forces. "Most of them strictly carried out regulations of the State and Party. Thus, we should not worry about Party members making profit for themselves. Besides, according to permanent rule, Party members who are currently working in state sectors are not allowed to run private business", said Mr. Trong. They must obey Party members' obligations and Party rules. Specific regulations on this matter will be issued by the tenth-tenure Party Central Committee.

Developing socialist-oriented market economy
About some opinions that the definition of socialist-oriented market economy is still vague, Mr. Trong said that the market economy exists in different societies. Building socialism and developing market economy has become a necessity, but market economy in Viet Nam is different from other countries. The policy of developing socialist-oriented market economy is on the right track. Socialist-oriented market economy is built in a socialist law-governed society of the people, under the leadership of Communist Party, aiming to eventually advance to socialism.
 
16 issues in the 10th National Party Congress Document:
Congress theme; Review on the implementation of the 9th-tenure Party Congress Resolution and the results of 20 years of renovation; The country's risks; Economic growth target for the period 2006-2010; Socialism-oriented market economy; Urgent social issues; Economic sectors; Industrialization and modernization; Democratic improvement; Construction of a socialist law-governed state; Fight against corruption; Mechanism of political system; Nature and expressions of the Party; Party members doing business in non-state sectors; Amendment of Party Rules, Party activities; Reviewing Report on the leadership of the ninth-tenure Party Central Committee and Voting on some issues in documents presented to the 10th National Party Congress.