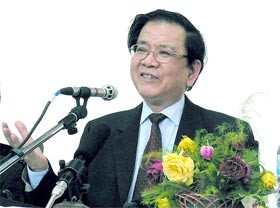 Mr. Nguyen Dy Nien answers a question from international media (Photo: SGGP)
At a press conference on April 21 in Ha Noi, Vietnamese Foreign Minister Nguyen Dy Nien answered questions by Vietnamese and international reporters about Viet Nam's foreign policies, joining the World Trade Organization, diplomatic relations and other issues. 
Sai Gon Giai Phong: Viet Nam is now so close to World Trade Organization membership. In terms of foreign policies, does Viet Nam look at all problems when becoming a WTO member and is there any change in the policies after joining WTO?
Foreign Minister: Viet Nam is making multilateral and bilateral talks to join WTO. The last two partners in bilateral talks are the US and Mexico, and Viet Nam is very close to conclusions. Viet Nam needs to prepare for the period after joining WTO. The principles of the Vietnamese foreign policies are independence, self-sovereignty, diversifying and multilateralizing relations, and enhancing the integration into the global economy. Basically, the principles will not change but there will be some "technical" changes in order to take advantage of Viet Nam's WTO membership.
Sai Gon Giai Phong: Could you tell measures and plans to attract more resources from overseas Vietnamese, especially their brain, to contribute to Viet Nam's development?
There are more than three million overseas Vietnamese now. Their brain resource is huge. The Politburo has issued Resolution 36 to call for their contributions and relevant agencies are seeking to carry out the resolution. For example, the Government has decided that overseas Vietnamese, with or without Vietnamese nationality, are free to return to their homeland. Some overseas Vietnamese have been allowed to own houses in Viet Nam, and requirements for such ownership will be opener. Many overseas Vietnamese have had to stay at hotels in Viet Nam because they have no house.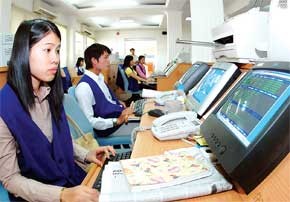 Viet Nam's stock market is developing very fast (Photo: SGGP)
Another important thing is to attract scientists to return to work here. We now cannot provide them with all conditions to work, and this must be improved. In think the most important is domestic scientists must cooperate well with overseas scientists of Vietnamese origin. In the coming time, the Ministry of Foreign Affairs, the Overseas Vietnamese Committee, the Ministry of Science and Technology, the Ministry of Education and Training, etc will collaborate to organize many activities and workshops to attract more overseas Vietnamese, especially intellectuals, to return to Viet Nam to contribute to the country's development.
Reuters: Could you talk about Viet Nam's ties with China and the US. How has Viet Nam prepared for the event that US President G. Bush will visit Viet Nam during the APEC Summit in Ha Noi in November 2006?
The ties between Viet Nam and China are developing very well. The two countries want to be good neighbors, good friends, good partners and good comrades. This is a direction for us to develop our relations. Issues relating to the border and the Tonkin Gulf, as well as trade issues have been solved. China is now Viet Nam's leading trade partner and the two sides will further boost cooperation. I think these will tighten the political and economic ties between Viet Nam and China.
Regarding the ties with the US, Viet Nam considers the relations very important. The two countries normalized their ties in 1995 and the relations have developed quite considerably. The Vietnamese Prime Minister visited the US for the first time last year, and it was a historic visit. Earlier, US President Bill Clinton visited Viet Nam in 2000.
I think that the Viet Nam-US relations have developed in many fields, including ones not ever before like military ties. Bilateral trade has developed very fast and the US is a leading trade partner of Viet Nam. The US is Viet Nam's biggest export market now. Obviously, Viet Nam and the US have many differences in politics, customs and practices, history, etc. The two countries had a heavy past but it did not prevent the current ties. Therefore, the relations are now developing with many advantages.
Concerning gaps, both sides are negotiating to find solutions that both can accept. As for me, who has been a diplomat for many years, negotiations with the US are sometimes difficult and sometimes easy, not always difficult.
Regarding President G. Bush's visit during the APEC Summit, I think that President Bush accepted Prime Minister Phan Van Khai's invitation during Mr. Khai's visit to the US last year to attend the APEC Summit. Viet Nam calls 2006 their APEC year. Therefore, we are doing our best to ensure success for the summit. We do need cooperation from such counties as the US, China and Japan to organize the summit successfully.
There are lots of things to do to prepare for the President Bush's visit. The Vietnamese Ministry of Foreign Affairs and the US Department of State will work together for the best preparations.
South China Morning Post: Could you provide information about the fact that Viet Nam is a candidate for a United Nations Security Council non-permanent seat in 2008 and 2009. When will Viet Nam join the UN peace keeping force? 

We have received many pledges from other countries to support Viet Nam to become a non-permanent member of the United Nations Security Council. This is the first time Viet Nam is a candidate for the seat and we see it a big challenge for us. With other countries' supports, I believe that when voting takes place in May 2007, Viet Nam will earn enough votes to become a non-permanent member of the United Nations Security Council.
Concerning UN peace keepers, many countries including the US, Japan and European nations want Viet Nam to join the force, but Viet Nam is considering it. When the world situation allows, Viet Nam can join the force to do humanitarian activities in health care, rescue, and unexploded ordnance services, etc. Viet Nam has much experience in these activities.
Ria Novosti (Russian News Agency): In your opinion, what is the biggest success in the Viet Nam-Russia relations in the past 20 years? What fields Viet Nam will focus on in its ties with Russia in the future? Recently, "colored" revolutions have taken place in East European countries and former Soviet Union members. What is Viet Nam's point of view, is it a tendency or a challenge?
The biggest success is that we still preserve our established and strategic relations with Russia after the Soviet Union no longer existed. And the relations have been intensified. Russian President V. Putin visited Viet Nam in 2001 and Vietnamese leaders also visited Russia. President Putin will attend the APEC Summit and officially visit Viet Nam. However, the two countries' economic and trade cooperation is not as good as expected. We will seek measures to boost our economic and trade ties because Russia has lot of potential in all fields. Viet Nam considers Russia a strategic and important partner in the coming years and is doing its best to strengthen relations with Russia.
Concerning "colored" revolutions in East European countries, we think they are a phenomenon, not a tendency. A revolution took place in a country due to that country's situations, but there was also outside influence. I think the most important thing is what inside that country. So, it cannot be called a tendency of this era.
DPA (German News Agency): The Minister's speech did not mention peaceful developments. Does Viet Nam worry less about them? According to you, who is the "architect" of the peaceful developments, is it the US? What are ways to carry out peaceful developments and how does Viet Nam deal with them?
The documents of the Communist Party of Viet Nam, Vietnamese media and scholars have mentioned peaceful developments. This is a fact that we have recognized. Our regime is a socialist regime. Under the Party's leadership, we are seeking to build a socialist government by law, of the people, by the people and for the people. We are seeking to practice democracy and ensure democracy for all people
When Viet Nam successfully deals with risks, boost economic growth, raise general knowledge of the people, build a government by law, successfully fight corruption, etc, we have prevented peaceful developments.
Regarding the question who is the "architect" of the peaceful developments, I think we should talk about what we have to deal with. They are challenges to face so that Viet Nam can preserve its identity, independence, sovereignty, and the regime, and continue developing. That's a big task we need to do.