Enhancing the development of Viet Nam is one of the most important topics at the ongoing 10th National Party Congress in Ha Noi. Many delegates have suggested that the Vietnamese economy could grow by 9-10% per year.
 
7.5-8% GDP growth: a long time to escape poverty
Mr. Thai Van Re, director the Ho Chi Minh City Department of Planning and Investment, said Viet Nam could meet the annual GDP growth target of 7.5-8% in the next five years. However, Viet Nam is capable of raising the growth rate to 9-10% as long as policies and measures are effective.
"Obtaining a lower rate is easy and it is more difficult to reach to a higher rate," he said.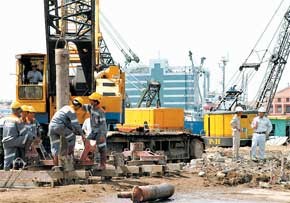 A road construction site in Ho Chi Minh City. Infrastructure construction is necessary for national development (Photo: SGGP)
Like him, Mr. Phan Thanh Binh, deputy director of the National University Ho Chi Minh City, said, "What we must do is to make all the people aware of the country's situations so that they can work harder to contribute to national development."
Mr. Binh continued, "Many foreign experts have told me that our achievements so far are valuable. However, the people need to know more about the country's situations."
 
"Viet Nam's annual per capita income is just over US$600. Prosperity is seen just in big cities, and all people must be aware of this to further practice thrift," he added.
He said Viet Nam needs to set a GDP growth higher than 7.5-8% per year because with this rate, it will take Viet Nam decades to escape the status of a poor country, and it will take about 10 years to raise the per capita income to US$800.
Mr. Binh said the Party needs to take action to help the people learn more about the current position of Viet Nam and what they need to do for the country to escape underdevelopment sooner.
Sharing this viewpoint, Mr. Vu Ngoc Hoan, Quang Nam Province's Party Chief said the 10th National Party Congress plays a very important role in boosting national development.
 
Mr. Hoan said, "Viet Nam is seeking to escape the status of a less developed country not later than 2010. The Party had better work out measures to reduce poverty and try to narrow gap between Vietnam and other countries."
Factors for growth
Mr. Thai Van Re said Viet Nam has potential to increase growth rates. For example, the country can further expand overseas markets. Meanwhile, different markets in Viet Nam are still close like the real estate and capital markets.
"These are the two basic markets to create strong developments than the goods market. Viet Nam also has lots of potential in the markets of labor, services, technology, etc. These markets are still playing humble roles, so when they are open, Viet Nam will develop even faster."
Rubber is among Viet Nam's key export items (Photo: SGGP)
Since the Viet Nam-US Bilateral Trade Agreement took effect in 2001, Viet Nam's export turnover to the US had increased four times between 2001 and 2003. Therefore, if Viet Nam joins the World Trade Organization, the expanding domestic and overseas markets will bring more opportunities, he said.
"There are still more potential in taking advantage of labor resources, applying imported high technology and exploring natural resources," said Mr. Re.   
Another important resource stressed in the Congress was capital. At present, the Vietnamese people's savings are equal to about 30% of the GDP. Foreign money transfer is about US$6-7 billion, in addition to official development assistance (ODA) capital.
The people have contributed their capital by investing in private businesses, and the investment account for 80-90% of the total investment. Private businesses have created numerous jobs in the economy and increased income for workers.
Mr. Re said, "Good policies will continue increase effectiveness of the people's investment. Therefore, Viet Nam will certain beat the GDP growth target in the next five years."
Measures for development
Mr. Nguyen Van Dua, Vice Chairman of the Ho Chi Minh City People's Committee, said one of the keys to further boost Viet Nam's economic growth is proper policies and strategies to develop different regions.
He said, "The Party and the Government have mapped out policies to support different regions to develop better but the policies are not enough for the region to become driving force for national development."
He said there should be specific regulations for regions like remote areas, islands and areas home to ethnic minority groups.
Another point is that the Party's policies for regional development fails to treat Ho Chi Minh City as an international transport and communication hub.
"Ho Chi Minh City has many industrial parks, the international airport and various sea ports. It is a production and international transport hub, and proper development strategies are needed for the next years till 2010 and many years later." 
In another aspect, Mr. Nguyen Van Tu, Khanh Hoa Province's Party Chief, said Viet Nam has many opportunities to further develop, especially in attracting more foreign investment. But regulations and procedures are still complicated.
Monopoly by State-run companies is also a big problem, he said. Prices of products and services provided by the companies are still higher than international prices, for example, in telecoms, transport and communications. A solution is to reduce State monopoly and get rid of the problem so that many private companies can operate effectively in these fields.
Some fields have been opened but more is needed to be done, like trade, banking finance and international tours, to ensure better competition. Competition will help these fields develop better, according to Mr. Tu.