The Congress discussed issues related to the voting of the Party's 10th-tenure Central Executive Committee on April 21.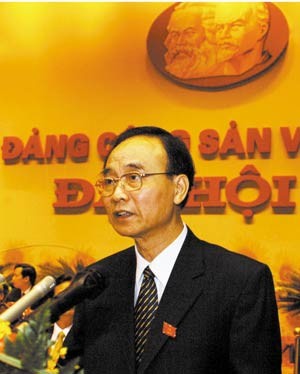 Mr. Tran Dinh Hoan gives speech in the conference
Politburo member Tran Dinh Hoan presented a report on standards to vote for the Central Committee in this tenure. He stressed three groups of criteria for the committee's members.
First, they must have firm political capacity, persistent in their viewpoint of Marxism-Leninism, Ho Chi Minh's thoughts, the working class, the objectives and ideals of national independence and socialism, renovation policies of the Party, and interest of the nation.
Second, they must be flexible, creative, and have ability, intelligence, innovative thought; be able to carry out Party policies in assigned fields; be decisive in practical actions; dare to face difficulties and challenges; be able to form a staff, implement regulations of centralization and democracy.
Thirdly, the Central Executive Committee's members must be good in terms of moral, be honest and devoted to their jobs, be a good example in the life and in the fight against corruption. They are not involved in corruption and are determined to fight corruption, must not let their families make use of their authority to benefit themselves, and must have prestige within the Party and in the people.
Mr. Hoan stressed that these standards must be met. He said it is a must not to recommend candidates who are for factionalism, have been responsible for wrongdoings and corruption, get rich fast, have a lot of houses and land with power abuse. There are no delegates who have conservative views, work ineffectively, nor undisciplined delegates. They are also not delegates who have some political problems not yet checked out by the investigative agencies.
Meanwhile, members of the Politburo and the Secretariat must be the outstanding members of the Central Executive Committee, with preference being the members of the ninth-tenure Central Executive Committee who fulfilled their tasks properly. Their heath conditions must ensure their working in the Politburo and the Secretariat.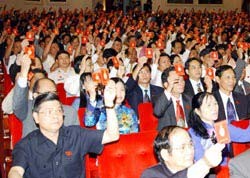 Election for the Central Executive Committee in the ninth Party Congress in 2001 (Filed photo)
The 10th Congress decided to vote 185 members for the Central Executive Committee, with 160 being official members and the rest 25 alternate members.
Mr. Hoan said 206 comrades were recommended to the tenth-tenure Central Executive Committee, with 175 for official seats and 31 for alternative seats. Of them, 87 comrades were re-nominated, 119 were new nominees, 23 women (11.16%), 20 officials of ethnic peoples (9.7%). The average age is 53. Thirteen comrades are younger than 46, 39 comrades aged from 46 to 50, 142 comrades aged from 51 to 60, and 12 comrades aged over 60. The youngest is 33 years old and the oldest is 66. Notably, one comrade made himself candidate by his own. He is Doctor and Professor Nguyen Xuan Han, 58, from the National University Ha Noi.