Young people across the country are paying close attention to and pinning high hope on the 12th National Party Congress, which officially commenced in Hanoi on January 21.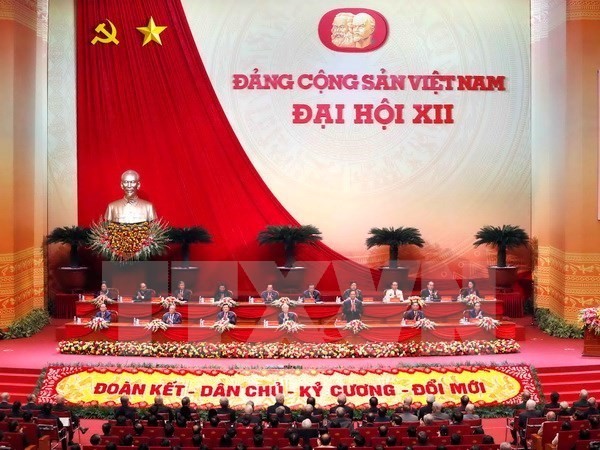 The 12th National Party Congress opens in Hanoi on January 21 (Source: VNA)
According to a survey conducted by the Ho Chi Minh Communist Youth Union (HCMCYU) Central Committee's Youth Research Institute, the majority of the young people questioned (98.5 percent) said that they are interested in Party Congresses, though at different levels.
Nguyen Dac Vinh, First Secretary of the HCMCYU Central Committee, said the survey showed that Vietnamese youth take interest in the country's political situation in general and the National Party Congress in particular.
Issues that attract their attention are the comprehensive reform of education, the training and use of young officials by the Party, vocational training and employment for young people, anti-corruption efforts and the overhaul of the Party leadership, according to the survey.
They also noted their wish that the ongoing National Party Congress will put forth policies that enable young people to access loans to pursue vocational training, along with incentives for young talents.
At the same time, young intellectuals voluntary to work in remote and underprivileged areas should receive more attention, they said.
The young people surveyed also called for measures to improve spiritual life of rural and mountainous youths.
Secretary Vinh suggested the Party and the State roll out a national start-up programme, under which young entrepreneurs will receive assistance to set up new-style cooperatives.
The Party and the State should set forth policies on vocational training and support for rural youths to start their own business, especially in accessing advanced science and technology and preferential loans.
Human resource development must be defined as the nation's central goal in the time ahead, Vinh said, adding that the task requires a comprehensive reform in education and training and policies to lure and use labour suitably and effectively.
The HCMCYU will continue its pragmatic activities to foster young people's living ideal, helping them make grater contributions to national development, Vinh noted.