World Wildlife Fund (WWF) held a seminar in Da Lat on November 22 to discuss ways to prevent the trafficking of wild animals and plant species.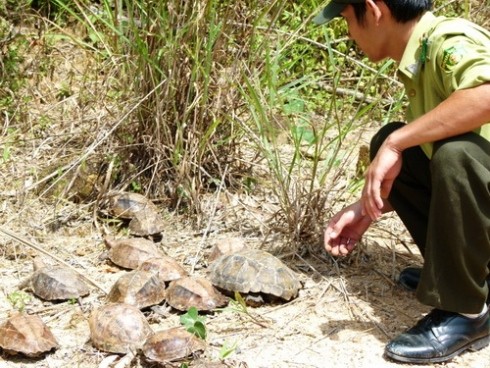 A forest ranger sends the elongated tortoises back to forest (file photo:Tuoi Tre)
World Wildlife Fund and TRAFFIC (a wildlife trade monitoring network) collaborated with relevant agencies and departments to strengthen law enforcement and raise people's awareness on the issue of illegal trafficking of animals and plants, under a specific program that was carried out from February 2009 to June 2011.
While conducting the program, the concerned organizations   discovered 88 wildlife trafficking violation cases and were able to rescue more than 700 animals from illegal traffickers, which were subsequently released into the wild forests.
Many activities to raise people's awareness of wild animals and an exhibition on wild animals were also held during the seminar.
Truong Son mountain range in Vietnam is home to many endangered species listed on the global preservation list, including tigers (scientifically known as Panthera tigris), Asian elephant (Elephas maximus) and the newly-discovered Hooves Sao la (Pseudoryx nghetinhensis).