Howard Limbert, an expert caver from the British Royal Cave Research Association, on May 26 claimed that the Khe Ry Cave in the central province of Quang Binh is by far the longest in the world.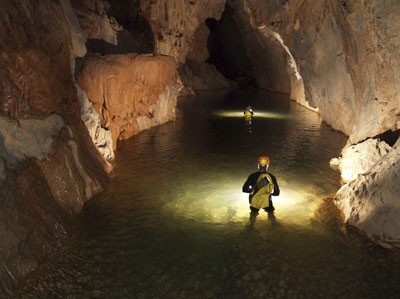 A view of Khe Ry Cave from the inside
Khe Ry Cave was surveyed for the first time in 1997, when a group of explorers led by Limbert discovered it.  They continued to explore and study and map this cave in the following years.
In 2013, they found that the length of the cave was a phenomenal 20 kilometers in length. Boats could easily maneuver through some sections of the 120m high cave.
A natural spring at a height of 1,300m feeds a rivulet flowing inside the Khe Ry Cave. Other Phong Nha Caves are grouped nearby.
Limbert said that the discovery of the world's longest cave proves that there are several mysteries which have as yet not been discovered about the natural limestone formation in the Ke Bang Mountains.

Related article:
New cave larger than world's largest cave discovered