About 60 international and domestic decision makers and researchers have debated how to build scenarios for food security, environment and livelihoods for Southeast Asia by 2050.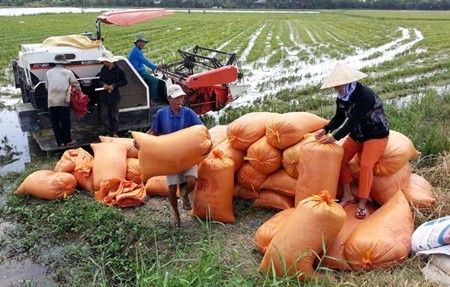 Farmers harvest rice in the southern province of Soc Trang. Agricultural experts believe that building various scenarios is vital for sustainable growth. — VNA/VNS Photo Thanh Ha
At a three-day workshop, wrapped up today, held in north-eastern Quang Ninh Province's Ha Long Bay, Deputy Head of the Science, Technology and Environment Department under the Ministry of Agriculture and Rural Development Dinh Vu Thanh said that building the scenarios for Viet Nam, in particular, was believed to be vital for the purpose of the sustainable growth that Viet Nam targeted.
"However, it demanded multi-stakeholder scenarios be built in the context that Viet Nam is one of five countries that would suffer the most from climate changes," he said.
Multi-stakeholder scenarios meant that the scenarios had to provide full analyses of how key socio-economic and governance uncertainties affect food security, environments and livelihoods; and how socio-economic drivers interact with climate change in Viet Nam and across the region, he said.
Le Huy Ham, Director of the ministry's Agricultural Genetic Institute, said that in Viet Nam, under the scenario of 3 degree Celsius rise in global temperatures by 2050, roughly 10 per cent of the country's agricultural land is predicted to be lost, impacting the lives of more than 20 million people.
In the meantime, the challenge in this region was to reduce greenhouse gasses, especially methane from rice production systems, while boosting food production to feed a growing population on less land, with increased vulnerability to flooding, water salinity and increased biotic and abiotic stresses, Ham said.
Leocadio Sebastian, CGIAR's Climate Change, Agriculture and Food Security Regional Programme Leader for Southeast Asia said that the workshop would try to capture the complex socio-cultural, economic undercurrent of factors – markets, governance, economic and infrastructure developments – in the region that would be crucial for food security and would also be impacted by climate change.
The workshop was co-organised by the Ministry of Agriculture and Rural Development and several international organisations including Consultative Group on International Agricultural Research (CGIAR); Food and Agriculture Organisation of the United Nations (FAO) and the United Nations Environmental Programme (UNEP).