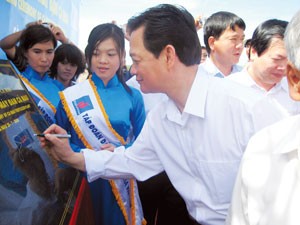 PM Nguyen Tan Dung at the groundbreaking ceremony of Ca Mau Fertilizer Plant
Petrol Viet Nam in association with two joint venture companies (Vu Han Designing Company and China Import-Export Company) began construction of Ca Mau Fertilizer Plant. 


This is part of a fundamental national project with an investment capital worth up to US$900million. This is also the largest project in the manufacture of fertilizer that has ever been undertaken. PM Nguyen Tan Dung and the former Chief of the Party, Le Kha Phieu took part in the groundbreaking ceremony on 26 July.
 
General Manager of Petrol Viet Nam, Mr Tran Ngoc Canh said that this project is a part of its large-scale project named "Ca Mau Gas-Power – Fertilizer" invested by Petrol Viet Nam.
This is also an important project to develop the gas industry as well as stimulate the development of economy in the south western part of the country as well as nationwide.
Through this project, Petrol Viet Nam would create employment for thousands of laborers. PM Nguyen Tan Dung reported at the ceremony that Viet Nam has approximately 80 percent of the population who earn a living through agriculture, making the need for fertilizer very high. The first stage of the Ca Mau Fertilizer Plant is to produce approximately 800,000 tons per year and in 2012, when factory will be completed, both Ca Mau and Phu My Fertilizer plants will contribute to ensure the national food security.
On behalf of the Government, the PM conveyed his gratitude for Petrol Viet Nam's efforts. He believes that the Ca Mau Fertilizer factory will be completed on schedule and with good quality.
The PM also suggested that ministries and departments from the central to Ca Mau province work together to create good conditions to support Petrol Viet Nam and other contractors achieve the best with the project with an aim to put the project into operation as soon as possible.
In related news, on the occasion of Martyrs and Wounded Soldiers' Day (27 July), Petrol Viet Nam granted 173 houses, with a value of up to VND 5.2billion to the martyrs' families. Petrol Viet Nam also donated VND 2.3billion to build a secondary school in the Ho Thi Nghia Commune of Thoi Binh District in the Ca Mau province.