There are less than 5 tigers living in the wild in Vietnam, a drop from 30 in 2010, said Deputy Director of the Nature Education Centre Nguyen Phuong Dung.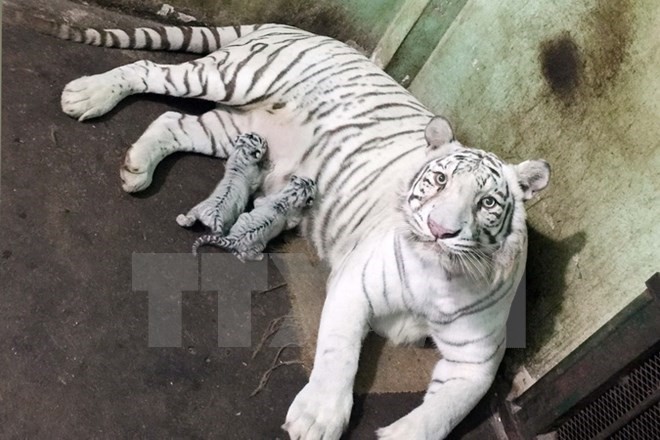 Bengal white tigers are successfully bred at Sai Gon Park in 2015 (Photo: VNA)
As many as 179 tigers are captive in 14 private farms across the nation, doubling from 81 in 2010, Dung said during the recent third Asia Ministerial Conference on Tiger Conservation in New Delhi, India.
She suggested Vietnam strengthen monitoring and management of private tiger raising and breeding farms across the nation.
Meanwhile, the situation on the global scale has improved with the number of tigers in nature increasing for the first time in the past decade, according to the World Wide Fund for Nature (WWF).
Statistics from the International Union for Conservation of Nature and Natural Resources (IUCN) show that there are 3,890 tigers, up from 3,200 recorded in 2010, thanks to increases mainly in India, Russia, Nepal and Bhutan.
International non-governmental organisations (NGOs) called on participants to commit to Zero Demand for tiger parts and products and include the commitment in the declaration of the meeting.
Michael Baltzer from the World Wide Fund For Nature (WWF) stressed a need for a plan for the next six years to ensure a safe habitat for tigers in the southeast Asian region.
Detection of those illegally selling tiger parts must also be stepped up.
The WWF committed 50 million USD over the next five years to tiger conservation and set a goal of increasing that to 85 million USD.
The Global Tiger Initiative was raised by the WB President in 2008 with countries home to tigers committed to doubling the wild tiger population by 2022.
In 2014, the Prime Minister approved a national programme on tiger conservation for the 2014-2022 period towards realising Vietnam's commitment to the goal set by the Global Tiger Initiative.