Vietnam's most well-known Agent Orange (AO) victim Nguyen Duc, who was born a conjoined twin, is now the father of twins himself.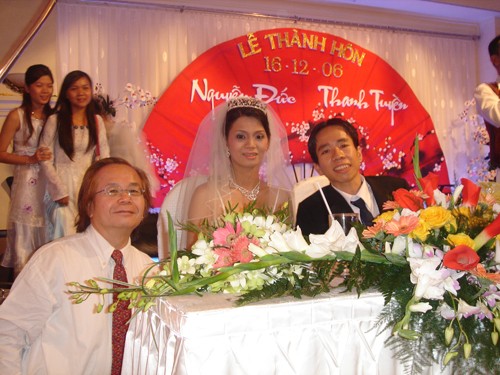 AO victim Nguyen Duc and his wife Thanh Tuyen at their wedding in 2006
Duc's wife, Thanh Tuyen, gave birth to a 1.6 kg son and a 1.1 kg daughter at Ho Chi Minh City's Tu Du Obstetrics Hospital on October 25. Born prematurely at 32 weeks, the infants were placed in intensive care.
The Tu Du Obstetrics Hospital, where Duc works, has said they will cover all medical costs for the famous couple.
Duc rose to nationwide fame after doctors successfully separated him from his conjoined twin 22 years ago. 
He married in 2006 with some 500 well-wishers in attendance including doctors from Viet Duc Hospital in Hanoi where Duc and his twin were separated.
Members from the AO Victims Associations of Viet Nam and Ho Chi Minh City, local and foreign press agencies also attended the wedding.
After surviving the most publicized operation in Viet Nam, Duc has struggled hard to overcome difficulties and rejoin the community as a normal person.
Viet, who was in a vegetative state for several years, passed away in 2007.

Related articles:
Most renowned AO victim to have baby