On the occasion of launching Vietnam's annual road traffic safety month, WHO and the National Traffic Safety Committee (NTSC) August 31 announced the commencement of a new program to strengthen road safety in Vietnam, particularly prevention of drinking and driving, a behaviour that places individuals as well as other innocent road users at substantially greater risk of road injury and trauma.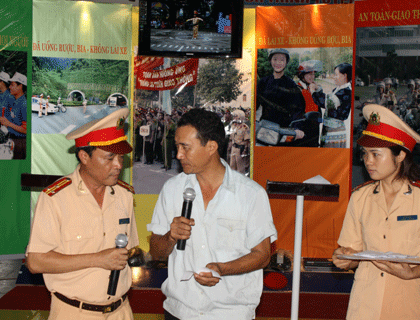 Traffic police officers talk with a resident about perils of drivig when drinking at an exhibition about Drinking and Traffic Accident in Hanoi from August 27 - 29.
The RS10-V (Road safety in ten countries) Vietnam program is implemented as part of a global program of ten countries with high burdens of road traffic injury. It involves a consortium of international partners (WHO, along with the Global Road Safety Partnership and Johns Hopkins University) working with various national and provincial road safety officials under the coordination of the NTSC.
The first phase of this new program will be implemented in the northern provinces of Ha Nam and Ninh Binh until the end of 2011.
Over the next eighteen months, the RS10-V program will support the implementation of a range of good practice interventions including mass media social marketing campaigns to raise awareness of the dangers of drink driving and the increased enforcement capacity in police, training for key stakeholders and enhanced enforcement operations utilising specifically procurement breathalysers.
"Alcohol impairment is a major risk factor for road trauma in Vietnam" WHO Representative to Vietnam Dr Jean-Marc Olivé said. "WHO congratulates the Government on the stringent position they have taken in the zero tolerance approach to drinking and driving".