After Typhoon Francisco reportedly downgraded to a tropical depression, a powerful whirlwind ripped through Ha Long City on September 25, sinking 22 tourist ships anchored at the Bai Chay Dock. No deaths, however, were reported from the incident.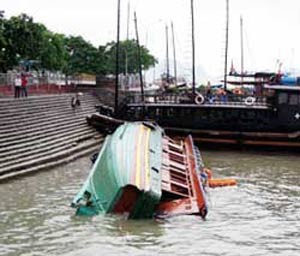 A sunken ship in Bai Chay Dock

According to eyewitness reports, many ships were thrown into the air colliding with each other and quickly sinking into the sea. The whirlwind began between passenger arrivals and departures; therefore, no passengers were harmed in the incident.

All local rescue teams were immediately dispatched to the disaster-stricken area to aid local ship owners and staff. Rescue teams struggled alongside owners to save ships and property.

According to Mr. Nguyen Van Khai, Head of the Bai Chay Dock, the dock was closed for the day yesterday as rescue teams worked to save sunken ships, repaired damages, and reviewed the safety of maritime transportation in the area.

In talks with Sai Gon Giai Phong reporter, Permanent Deputy Secretary of the Quang Ninh Provincial Party Committee Nguyen Duy Hung said that most of the sunken ships were old - valued at just VND300 million to VND400 million each. However, he added, the total loss of property is no small figure.

The province's authorities are currently devising a plan to provide financial support to local ship owners and people. However, those shipowners will also be held responsible for not halting their business and seeking shelter as the officials instructed them to do.

Mr. Hung also said that Ha Long city would have the docks cleaned and repaired to welcome tourists today.