The western area of central Nghe An province has been officially recognized as a World Biosphere Reserve by the UN Educational, Scientific, and Cultural Organization (UNESCO).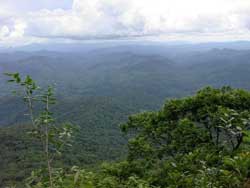 Pu Mat National Park in Nghe An Province.
The Western Nghe An Biosphere Reserve, covering on an area of more than 1 million hectares in the nine mountainous districts of Nghe An, includes Pu Mat National Park, and Phu Huong and Pu Hoat natural preserves. 
The reserve is the only area in Southeast Asia with primeval forests unexplored by scientists.  It is the home of many unique animal species, including the recently discovered Sao La (or Pseudoryx Nghetinhensis).
UNESCO has to date recognized six biosphere reserves in Viet Nam, namely the Can Gio Mangrove, Cat Tien National Park, Cat Ba Archipelago, the Red River Delta, Kien Giang, and now the Western Nghe An.