Vietnam's economy is expected to grow at a moderate rate of around 5.3 percent this year and 5.4 percent in 2014, according to a report released by the World Bank (WB) in Vietnam on July 12.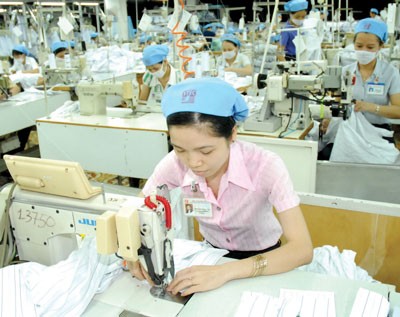 Textile workers  (Photo: SGGP)
As per the latest report, the World Bank has lowered its economic growth forecast for Vietnam to 5.2 percent from its earlier forecast of 5.7 percent given in the beginning of the year.
Although inflation was 6.7 percent in June 2013, WB experts predicted it will amount to approximately 8.2 percent by the year's end. WB Vietnam's chief economist Deepak Mishra said inflation in 2013 will be badly affected by increase in basic salary on July 1 and hikes of electricity, hospital and education fee. All these would make prices strongly rise.
The WB expert warned that Vietnam faces the risk of a prolonged period of slow growth. Slower growth may intensify demand for loosening monetary and fiscal policies further, a response that risks stoking inflationary pressure and reversing the recent gains in macroeconomic stability.
The WB economist noted that Vietnamese economic growth has been slowest since the 1980s, meanwhile, other economies seem to be warming up again. Before the global economic downturn, Vietnam's GDP growth was higher than the Philippines, Malaysia, Indonesia and Thailand. However, after the crisis, Vietnam has seen the sharpest drop in growth, he said, adding that Vietnam's economic growth is now lower than the Philippines, Thailand and Indonesia
.
However, the report also points out challenges Vietnam's macro-economy has been facing, including slow structural reform, which it says, can reduce investors' trust and badly affect the country's growth prospects.