The Vietnam Union of Science and Technology Association (Vusta) announced an action plan in Hanoi on Thursday, which will gauge the impact of hydropower plants along the Mekong River.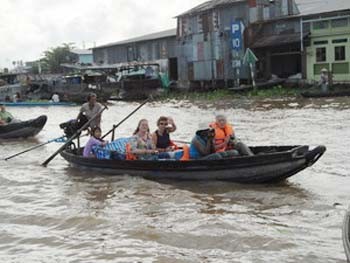 A view of the Mekong River (Photo: VNA)
According to Phan Anh Son, head of the international cooperation division of Vusta, the union is gathering opinion of scientists on the impact of hydroelectric projects scheduled to be built along the main banks of the Mekong River.
Vusta is planning to host a scientific seminar to discuss the issue in Ho Chi Minh City on November 23. The union will meet with scientists from 13 provinces and cities in the Mekong Delta, which will be directly affected by construction of the hydropower plants.
Vusta will then coordinate with scientists from Laos and Cambodia at an international seminar to be held either in Laos or Cambodia.
The seminars will view objectively the impact of hydropower plants along the Mekong River and lay out a detailed and comprehensive report based on effects on the economy, society, culture, natural resources and environment in all related regions and nations.