Voters in central Ha Tinh Province's Cam Xuyen District said yesterday that the National Assembly (NA)'s social welfare policies aimed at workers and communities in rural areas had helped improve living standards.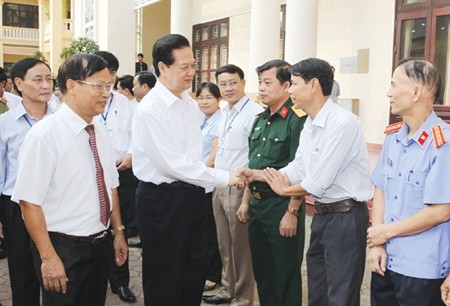 Prime Minister Nguyen Tan Dung (third from left) meets with Kien An District voters in the northern city of Hai Phong yesterday. — VNA/VNS Photo Duc Tam.
At a meeting with NA Chairman Nguyen Sinh Hung, voters suggested the NA and Government pay more attention to improving the quality of officials at the local level, increasing the efficiency of State management and tackling corruption head on.
Some said the Government should balance domestic agricultural production and agricultural imports to take full advantage of Viet Nam's position as the world's leading exporter of rice, thus increasing farmers' incomes.
Local voters also urged the NA and authorised agencies to upgrade transport and irrigational infrastructure in concentrated production zones and to develop more preferential policies that encourage businesses and farmers to boost production, and develop distribution links and fishery logistics services.
Speaking about voters' opinions, NA Chairman Hung asked Ha Tinh Province's leaders to actively implement the State's policy to support Cam Xuyen fishermen in developing offshore fishing.
The province should combine the processes of changing economic structure and production models, and consider building urban areas in line with each locality's characteristics, he said.
The NA leader also asked for further participation of voters in implementing the Constitution, improving the legal system and fine-tuning the legislative body's operations.
Cam Xuyen District has recorded positive economic growth in recent years. The poverty rate declined from 25.53 per cent in 2011 to 9.43 per cent at present. Income per capita is estimated at VND25 million (US$1,175) per year.
Meeting with voters
On the same day, Prime Minister Nguyen Tan Dung and National Assembly (NA) deputies in the northern city of Hai Phong met with voters in Kien An district, who voiced hopes that the NA's 8th session, which begins later this month, would make sound decisions that would foster national socio-economic development.
Voter Dinh Dang Hung from Bac Son Ward suggested more attention be paid to low-income households in rural areas, individuals who served the country during the war and Agent Orange/dioxin victims. Nguyen Huy Truong from Lang Ha Ward called for the acceleration of the construction of national-level infrastructure projects, particularly traffic facilities, in Hai Phong.
Others highlighted the need for investment in improving the quality of education, building accommodations for students and training local medical staff.
On behalf of Hai Phong's NA deputies, PM Dung said the constructive feedback demonstrated voters' sense of responsibility for socio-economic development in their city as well as Viet Nam in general.
The Cabinet leader said the Government, ministries and localities would do their utmost to achieve this year's socio-economic targets with a focus on facilitating production, stabilising the macroeconomy and mobilising resources for development. He pledged his support for developing education and training, ensuring social welfare, guaranteeing political security and social safety, safeguarding national independence and sovereignty and preserving a peaceful and stable environment for national development. He also requested Hai Phong authorities make full use of all their resources to improve traffic infrastructure and look after social policy beneficiaries, including Agent Orange/dioxin victims.
PM Dung vowed to look into the issues that concerned voters, including education quality improvements, constructing student dormitories, ensuring the profitability of the textile and garment sector and reducing overcrowding at hospitals.