The People's Committee of Binh Phuoc province yesterday in coordination with Binh Phuoc Rubber Company inaugurated the BOT traffic project Dong Phu -Binh Duong.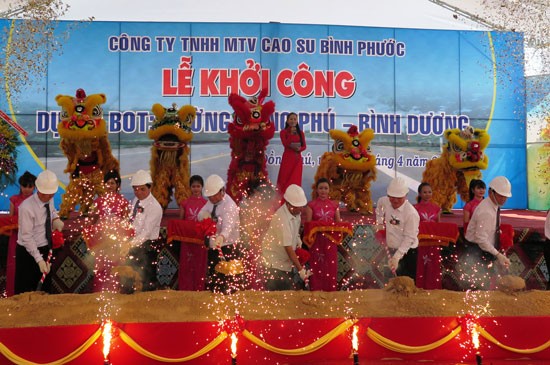 At the inaugural ceremony
The Dong Phu-Binh Duong route has a total length of 42km linking national highway No.14 to Phu Giao district, Binh Duong province.
The project is divided two phases with total investment capital of VND 4trillion. The 1st phase includes 2 lanes with its speed of 70km per hour and the second phase has 4 lanes with its speed of 80km per hour.
Deputy Chairman Huynh Anh Minh said it is the provincial important traffic route linking the provincial routes to Binh Duong province and the central highlands provinces.
It will help reduce number of vehicles on National highway No.14 and DT 741 and attract investment in Dong Phu Industrial-Service-Urban Area project, contributing to promote socioeconomic development in Binh Phuoc.