The People's Committee of Quang Ninh Province has officially handed over the Hon Gai Port in Ha Long City to the Viet Nam Shipbuilding Industry Corporation and the Cai Lan Shipbuilding Industry One-Member Ltd. Co will be directly responsible for operating and  managing the port.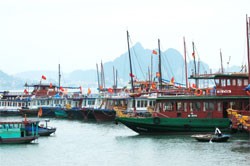 Hon Gai Port
The Cai Lan Shipbuilding Industry Co,.Ltd has pledged to invest VND450 billion in turning Hon Gai into Ha Long's  modern international passenger port as the first stage
The project will include a 200-meter-long wharf system, a rescue station, an operating center, a standardized terminal station for visitors to the Bay. The facilities are designed to receive ships with the tonnage of 50,000 tons, high-speed boats. All the works will be carried out from now to 2008.