The Gia Lai Sugar Cane Thermoelectric Company in the highland province of Gia Lai will spend VND150 billion (US$7.2 million) on sugarcane cultivation during 2012-2013, contracted to farmers for sugar production.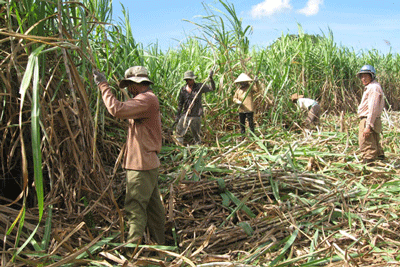 Sugarcane being harvested in Chu Gu (Photo: Gia Lai newspaper)
The company will invest the amount on contracts with farmers who will either cultivate new sugarcane areas for a fee of VND25 million (US$1,200) per hectare or care for existing ones for VND15-20 million per hectare ($718-957).
Under this scheme, the company will develop about 1,500 hectares of new sugarcane crop, making the total area of sugarcane for the next season to more than 7,000 hectares, an increase of 1,200 hectares as compared to last year, most of which were previously cassava fields.
At the same time, the company is encouraging farmers to change gradually from the K84-200 and R579 sugarcane varieties to newer and stronger ones like K88-92 and Ku 00-158, which have stronger resistance to pests and diseases, as well as higher productivity of nearly 100-140 tonnes per hectare.
In addition, the company is collaborating with Israel in implementing the water-drop technology to irrigate sugarcane and mechanising all growing procedures from planting to harvesting on a sample 50 hectare field in Po To Commune in Ia Pa District.
If the technology proves successful, it will be applied to a wider area. The People's Committee of Gia Lai aims to cover 13,000 hectares with sugarcane in the near future so as to process 6,000 tonnes of sugarcane per day.