Potential opportunities have opened up for Vietnamese labourers to work in Australia with high salaries and good working environment. Workers who fluent in English can earn up to VND 500 million a year.
Mr. Hoang Van Hung, vice director of the Labor Export, Trade and Tourism Joint Stock Company (TTLC) under the Vehicle Industry Corporation, said the "Working environment in Australia is very good. Employers only work 38 hours per week and can earn VND 44 million a month". He said that after he had carried out the labor market survey in Australia with Mrs. Nguyen Thi Hang, Minister of Labor, Invalids and Social Affair and Mr. Nguyen Thanh Hoa, head of the Overseas Labor Management Bureau.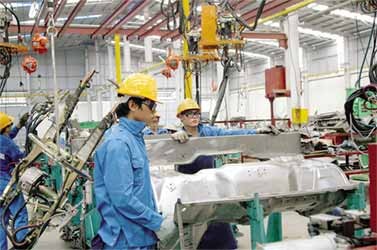 Vietnamese workers
According to Mr. Hung, every Vietnamese labourer in Australia is treated fairly with respect to welfare regulations, bonusies and working regulations.
Seven laborers sent to work in Australia in 2006 have now acquired stable jobs with a salary of VND 40 – 44 million a month, or equal to VND 480 – 530 million a year. Among them are two cooks, working in Perth with a yearly wages of AUD 39,100 (VND 500 million) and AUD 41,850 (VND 530 million). They have also been provided with free accomodation. Five welders working in a factory owned by a Vietnamese expatriate in Melbourne city with weekly wages of AUD 1,200-2,000 (VND 15 – 25 million).
In 2007, the TTLC will fulfil a contract to send an unlimited number of Vietnamese laborers to work in Australia as welders, vehicle mechanics, cooks etc.
According to some experts, besides specific prfessional skills, proficiency in English and the ability to work independently are key factors of employ ability. In fact TTLC has opened English training programs for Vietnamese labors in some universities in Viet Nam and Australia. After attending an English course lasting 3-6 months, Vietnamese laborers are directly tested and interviewed for certification.
If recruited, these workers would sign a two-year contract working five days a week with a minimum yearly wage of AUD 39,100, equal to VND 500 million per year, not including bonuses or overtime.