Vietnam Airlines, the national flag carrier, is tracking down the missing front landing wheel of the VN1673 plane, said Lai Xuan Thanh, Head of Civil Aviation Administration of Vietnam (CAAV) on October 22.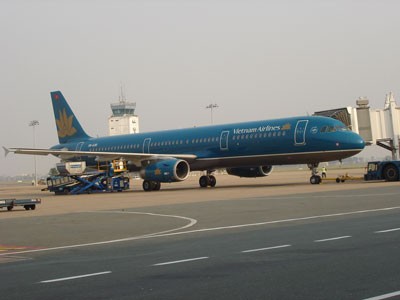 A plane of Vietnam Airline is going to take off in Tan Son Nhat Airport (Photo: Cat Tuong )
VN1673 flight took off from Cat Bi Airport in the northern city of Hai Phong at 12.45pm and landed in Da Nang City at 2.15pm on October 21.
Right after the plane landed at Da Nang Airport and all the flight crew and passengers had left the aircraft, airport technicians carried out a routine check and found one of two front wheels missing.
Technicians discovered that the aircraft's front shaft had been broken on one side causing one of the two front landing-wheels of the plane to fall off.
This is the first incident of its kind to happen for the airline and the incident has been reported to CAAV as well as the manufacturers. A thorough investigation will be conducted before reaching a final conclusion as to the fault.
Two mission teams from CAAV arrived at Cat Bi Airport in Hai Phong City, and Da Nang City are conducting the search for the lost wheel as there is high possibility of the landing-wheel falling to the ground when the plane took off or landed.
VNA had discontinued the use of all fleet of ATR-72 planes. Technical examinations conducted on the aircrafts' front shaft were completed on October 22. All aircrafts were put into operation on the same day.
VNA said the aircraft was put in operation in Vietnam on October 13, 2009, and the last regular technical examination had been conducted on September 21, 2013.