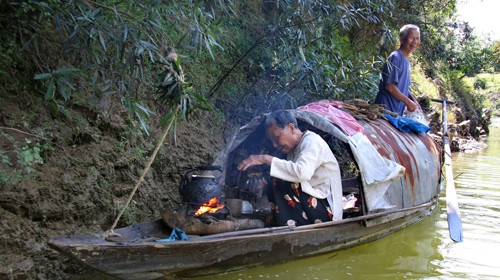 A small boat cum home of an old fishing family on Thu Bon River in Nong Son District of the central province of Quang Nam (Photo: Tuoi tre)
A survey conducted last year of farmers in 12 provinces by the Central Institute for Economic Management and an economic research group of the University of Copenhagen (Denmark) showed that farmers' incomes had declined and the earning gap had widened, while quality of meals had gone down.
Decline in meal quality
The survey aimed at a realistic picture of the Vietnamese rural life after the 2008-2010 economic down turn. It was found that generally low-income households had reduced from 20 percent in 2008 to 16 percent in 2010.
However, in certain areas such as the northern province of Dien Bien, the central province of Khanh Hoa and the southern province of Long An, the number of low-income households was even higher than in 2006 whereas other areas witnessed a sharp decline (e.g. a 20 percent and 12 percent decrease in the northern provinces of Lai Chau and Phu Tho respectively).
"Our policy to stock produce sometimes comes at an improper time when farmers basically sell all their products to speculators" Luu Duc Khai
Another important result was that nationwide 6 percent of farmers lived without cultivable land for a long time, especially in Khanh Hoa (18.4 percent), Long An (9.4 percent), highlands provinces of Dak Lak and Dak Nong (9 percent and 5.8 percent respectively).
The research group also surveyed farmers having a meal within 24 hours and found a big gap between the meal quality of the northern mountain areas and other provinces. The variety of food in such regions as the central province of Quang Nam, the northern province of Ha Tay also went down as it also did in the northern mountain areas.
Results showed that in 2010, rural households had to do several jobs at the same time to earn more money to face bad economic times, according to Prof. Finn Tarp of the University of Copenhagen.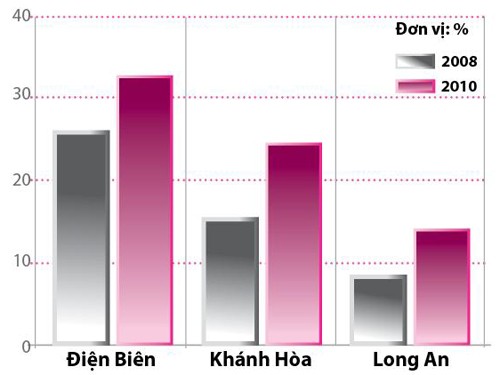 The three regions that showed an increase in low-income households
More Job Opportunities for Farmers
According to Luu Duc Khai, director of the Central Institute for Economic Management and a member of the research group, the survey group recommended a change in policies related to farmers to avoid impoverishing them since earnings from farming have begun to decline lately.
Also, as cultivable land is decreasing due to industrialization, along with the policies to support farmers in learning new jobs, the government should create more job opportunities on the spot, to keep them from migrating to urban areas.
As Mr. Finn Tarp commented, Vietnamese farmers are very vulnerable in an imperfect market like Vietnam that suffers high risk from weather, seed price and fertilizer cost etc. It would be best now if the government speeds up the agriculture insurance program. "Real estate market should be more developed so that citizens can make better use of land," he said.



An income of VND42-114 million per household per year (around US$2050-5560)
According to the survey, the medium household income increased from VND52.7 million/year (about USD2570) in 2008 to VND80.9 million/year (about USD3946) in 2010. The lowest and second lowest number belongs to Quang Nam and Lai Chau provinces (VND42 million and 46 million respectively or US$2050 and 2244). The highest average income is in Long An Province with VND114 million (about US$5560), which is not really significant since a household normally consists of 4-5 people. It is also easy to recognize that the earnings gap is becoming wider as commented by Mr. Luu Duc Khai.