The Presidents of Viet Nam and the Republic of Korea (RoK) agreed to further strengthen mutual trust and understanding between the two countries during talks in Ha Noi yesterday.
The discussions took place after a welcoming ceremony for RoK President Park Geun-hye, who is making her first State visit to Viet Nam since she took office in February this year.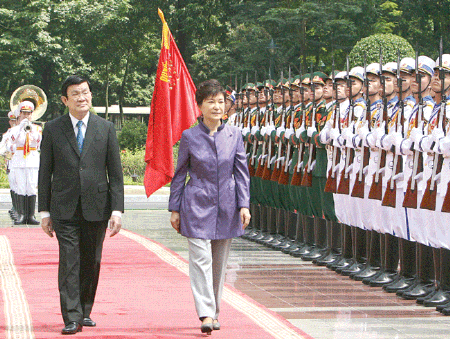 President Truong Tan Sang and Republic of Korea President Park Geun-hye review a Guard of Honour in Ha Noi yesterday -VNS
Along with her Vietnamese counterpart, President Truong Tan Sang, she expressed her delight at the broad and effective development of the friendship and co-operation between the two nations in all fields since the establishment of their diplomatic ties 21 years ago, especially since they set up their strategic co-operative partnership in 2009.
Particular success has been seen in economics, trade, Official Development Assistance (ODA), tourism and labour cooperation, according to the two leaders.
Both host and guest stressed that the two nations need to intensify co-operation in investment, development, science and technology, employment, the environment, culture and education.
They also agreed that every effort must be made to continue the good work in their economic ties and raise two-way trade to US$70 billion by 2020, improve their bilateral trade balance as well as accelerate the negotiations for the signing of the Viet Nam-RoK FTA.
They shared the view that an early signing of a labour co-operation agreement is needed to replace the former which expired in 2012, and agreed to implement the Viet Nam-Korean Institute of Science and Technology project (V-KIST).
They also agreed to continue protecting and ensuring the legitimate rights of their respective citizens while increasing necessary care and support for Viet Nam-RoK multi-cultural families so that they can act as a bridge between the two countries.
They expressed their satisfaction at the two nations' close collaboration and co-operation at multilateral forums and international organisations such as the UN, the World Trade Organisation (WTO), the Asia-Pacific Economic Cooperation (APEC) and the Asia-Europe Meeting (ASEM), as well as regional co-operation mechanisms including ASEAN-RoK, ASEAN+3, ASEAN Regional Forum (ARF) and the East Asia Summit (EAS).
After their talks, the two leaders witnessed the signing of seven co-operation agreements between Viet Nam and the RoK.
Top leaders' discussions
Receiving RoK President Park yesterday, General Secretary of the Communist Party of Viet Nam (CPV) Nguyen Phu Trong underlined Viet Nam's consistent foreign policy of developing its strategic partnership with the Republic of Korea (RoK) - one of Viet Nam's most important partners.
Regarding the Korean peninsula issue, the Party chief stressed Viet Nam's stance on backing peace, stability and non-nuclearisation on the peninsula.
Both leaders agreed to work out a new vision and long-term plan on economic and investment cooperation in an attempt to lift the two countries' links to a new height for the sake of the two peoples.
Meeting President Park the same day, National Assembly Chairman Nguyen Sinh Hung made it clear that the Vietnamese legislature stands ready to drive the two Governments' cooperation.
Park pledged all possible support for the Vietnamese expatriates in the RoK, including Viet Nam-RoK multi-cultural families, especially Vietnamese brides.
Both sides vowed to facilitate the signing of a free trade agreement which will make it easier for commodity trading and cooperation between their enterprises.
Meeting President Park the same day in Ha Noi, Prime Minister Nguyen Tan Dung suggested that Viet Nam and the RoK further boost co-operation in national defence-security, trade, investment and tourism, in addition to completing negotiations for a free trade agreement and making it easier for Vietnamese goods to enter the RoK market.
According to the PM, the two sides also need to nurture links in culture, science-technology, education and training while facilitating people-to-people exchange, especially the hosting of Vietnamese guest workers in the RoK.
Viet Nam expects the RoK to continue providing the country with official development assistance and encouraging its firms to do business in Viet Nam, said Dung
For her part, Park pledged all possible support for Vietnamese goods to flow into her country.
She said the RoK will sign an agreement to welcome Vietnamese workers soon, as well as cement bilateral links in science-technology and national defence-security.
RoK offers nuclear help
Nuclear co-operation between Viet Nam and the RoK was also discussed at another conference held inHa Noi yesterday.
Organised by the South Korean Ministry of Trade, Industry and Energy in association with the Korean Electricity Power Corporation, it included an exhibition on the outlook of the Vietnamese nuclear industry.
Korean Minister of Trade, Industry and Energy Yoon Sang-jick said at the event he believed in further energy co-operation between the two countries.
Business partnership
Also yesterday, a memorandum of understanding (MOU) was signed by the Viet Nam Chamber of Commerce and Industry (VCCI) and the Korea Federation of Small and Medium Business (Kbiz), aiming to boost co-operation between the two sides.
Viet Nam and the RoK also inked another MOU on the environment, space and land management database.