PHNOM PENH — President Nguyen Minh Triet and Cambodia's King Norodom Sihamoni Friday agreed that the two countries should continue holding high-ranking meetings to further foster the expansion of multi-faceted co-operation.
They also applauded efforts by the two Governments to effectively implement previously signed agreements.
The two leaders met in Phnom Penh during Triet's official visit to Cambodia which began on Thursday and ends Saturday.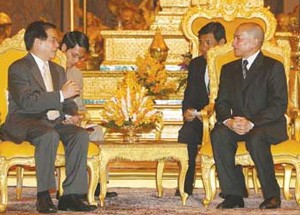 Vietnamese President Nguyen Minh Triet (L) meets Cambodian King Norodom Sihamoni on August 27, 2010 in Phnom Penh, Cambodia. (Photo: Vietnam News)
Welcoming Triet and his wife to Cambodia, King Norodom Sihamoni said the visit was an important event that would create strong motivation to bolster traditional ties and comprehensive co-operation between Viet Nam and Cambodia in the coming time.
He expressed his gratitude for the support given by Viet Nam's leaders and people to Cambodia in the past as well as to the country's current recovery and development.
The King said he was impressed with Viet Nam's achievements in building and developing the country and highly valued Viet Nam's position in the region and in the world.
While affirming that Cambodia would always be a good neighbour to Viet Nam, he asserted his determination to cultivate the fine traditional and comprehensive relations between the two countries.
He also wished that Viet Nam, under the leadership of the Communist Party and State, would continue to gain more achievements in its national construction and development.
President Nguyen Minh Triet thanked the King for his warm welcome, saying that he highly valued the achievements gained by Cambodia under the King's rule and the leadership of the Royal Government. Triet applauded Cambodia's increasingly higher position in the region and in the world.
He also expressed his deep gratitude to Cambodia for its support to Viet Nam during the country's struggle for liberation and unification in the past and construction and defence at present, and for the support the government gives to Vietnamese people who are living in Cambodia.
Triet affirmed Viet Nam's policy to prioritise building and developing relations with Cambodia and conveyed his greetings to former King Norodom Sihanouk and Queen Mother Norodom Moninieth Sihanouk.
Triet donated VND8 billion (US$410,000) and 50 computers to King Norodom Sihamoni for the Cambodian Royal Fund.
Building achievements
Also on the same day, Triet met separately with Samdech Sisowath Chivanmoniral, first vice president of the senate of Cambodia; Ngoun Nhel, acting president of the Cambodian National Assembly; and Samdech Hun Sen, Prime Minister of the Royal Government of Cambodia.
At the meetings, Triet said Viet Nam was always willing to share its experience and co-operate with Cambodia for mutual interest and benefit. Viet Nam would do its best to ensure the fine co-operation between the two countries could contribute to ASEAN unity.
In the coming period, he said, the two countries needed to strengthen co-operation mechanisms between policy-making and executive bodies, organisations and especially bordering provinces.
Triet suggested the two sides foster ties in specific industries, including national security and defence, trade and commerce, agriculture, forestry and aquaculture, transport, mineral exploitation, oil and gas, education, healthcare, and tourism.
He also said the Royal Government should instruct relevant bodies to foster land border demarcation works to be completed by the end of 2010 as agreed.
Leaders of Cambodian Senate, NA and Royal Government expressed their deep gratitude for Viet Nam's support, particularly in saving Cambodia from genocide.
Triet also visited Great Supreme Patriarch Tep Vong at Wat Ounalom and Great Supreme Patriarch Bou Kry at Wat Botum.