Vietnamese President Nguyen Minh Triet returned home in the afternoon on Aug. 28, wrapping up an official visit to Laos and a State-level visit to Cambodia.
In the morning the same day, the President attended and delivered a speech at the talks on "Experience, potential and opportunities for Vietnamese investors in Cambodia" in Cambodia's capital city of Phnom Penh.
The talks were attended by Cambodian Deputy Prime Minister and Economic and Financial Minister Keat Chhon and over 200 representatives of the two countries' business circles.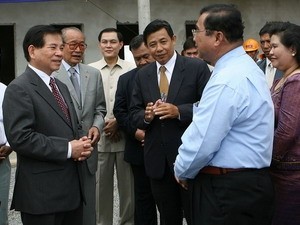 Vietnamese President Nguyen Minh Triet (1st, L) during his August 28 visit to Kampong Chhnang Province, Cambodia (Photo: Vietnam News Agency)
Representatives of Vietnamese businesses currently doing business and investing in Cambodia presented the results of their invested projects in agriculture, mining, finance-banking, healthcare, energy, light industry and hydro-electricity. They put forth recommendations for boosting the two countries' economic, trade and investment cooperation on a par with the current growing political ties.
The Cambodian Deputy Prime Minister told President Triet and the participants that his country expects its economy to boom this year with an estimated GDP growth rate of at least 5 percent.
He pointed to the young and dynamic population as one of his country's advantages together with untapped potential, saying there will be many opportunities for Vietnamese investors.
Noting the participants' recommendations and specific initiatives, President Triet said the two countries' economic, trade and investment cooperation has attained encouraging developments though yet to match their potential.
Opportunities still lie ahead, President Triet said, expressing his hope that Vietnamese investors will go to Cambodia with the spirit of solidarity and friendship.
He urged Vietnamese investors to be responsible and cautious to avoid sparking problems that can affect their partners' trust, and participate actively in poverty reduction, cultural, healthcare and educational activities in Cambodia.
Also in the morning, President Triet visited the construction site of the Technology and Senior High School in Kampong Chnang, which is built with 10 billion VND that General Secretary Nong Duc Manh presented to the Cambodian Royal Fund during his visit to Cambodia in 2005. Once competed, the school will be named the Vietnam-Cambodia Friendship School.
In an interview granted to the press, Deputy Foreign Minister Dao Viet Trung said the good outcomes of the two visits will contribute greatly to strengthening and lifting Vietnam's ties with Laos and Cambodia to a new height.
He said the leaders have affirmed the importance of their growing traditional friendship as an invaluable asset that needs to be preserved and handed down to the next generations.
Trung reiterated that Vietnam has placed importance to strengthening and enhancing its special solidarity and friendship and comprehensive cooperation with Laos and good neighborliness, traditional friendship and all-sided cooperation with Cambodia.
In the future, Vietnam will increase the exchange of visits with Laos and Cambodia at all levels in order to deepen their currently fine political ties to create a foundation for their cooperation in the fields of economy, investment, trade, and others.
Regarding cooperation with Laos, Trung said the two countries should quickly carry out their agreements in the fields of hydro-electricity and the plantation of industrial plants and mining, while pushing up cooperation in healthcare, agriculture and rural development, infrastructure construction, tourism, culture, and post and telecommunication.
For her part, Vietnam will step up the training of human resources for Laos to help it meet the needs for industrialisation and modernisation, Trung noted.
In the short term, Trung said the two countries need to work on their plan on enhancing the quality and effectiveness of Vietnam-Laos cooperation in education and human resource development and carry out the projects to establish the Faculty of Vietnamese language in the Lao National University and other cooperative projects in education and training.
With Cambodia, the two countries will strive to raise their two-way trade to 2 billion USD in 2010 and encourage Vietnamese businesspeople to invest in Cambodia, especially in banking, the growing of rubber plants, fertilizer production, the processing of farm products, mining, oil and gas industry, telecommunication and hydro-electricity.
Vietnam will boost its cooperation with and help Cambodia in other fields, such as agriculture, forestry, fisheries, transport and communications, education, healthcare and tourism, Trung said.