Vietnam continues to attach importance to its relations with the US, considering the nation a leading strategic partner, President Truong Tan Sang said during his meeting with visiting US Senator Jim Webb in Hanoi Wednesday.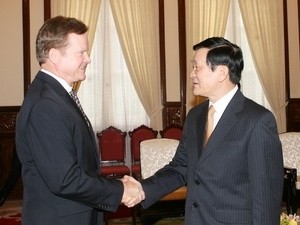 Vietnamese President Truong Tan Sang (R) receives US Senator Jim Webb in Hanoi August 24, 2011 (Photo: Vietnam News Agency)
Receiving Mr. Webb, Chairman of the Subcommittee on East Asia and Pacific Affairs of the US Senate Foreign Relations Committee, the Vietnamese President affirmed Vietnam's foreign policy of openness, diversification and multilateralization of relations, and proactive international integration.
He said he was pleased with fine developments in the two countries' cooperation, not only in bilateral issues on economics, trade, education, health, science and technology, humanity, security and defence but also at regional and international forums.
In the future, Vietnam will focus on developing its economy and creating conditions for the country's rapid and sustainable development, Mr. Sang said, suggesting Senator Webb further boost the bilateral ties and continue support for issues on the generalized system of preferences and market economy-related regulations for Vietnam.
He asked the US side to strengthen cooperation in addressing the aftermath of war, especially the Agent Orange/dioxin issue, and in coping with climate change and sea level rise.
On the occasion, the Vietnamese leader thanked Senator Webb for his active contributions to the enhancement of the bilateral ties, as well as issues relating to peace, cooperation and development in the region, including the East Sea issue and the sustainable use of the water resources of the Mekong River.
Mr. Webb said he was pleased to visit Vietnam for the second time this year and wished to further boost the relationship between the two countries.
He said that before arriving in Vietnam, he met with leaders of ASEAN, Thailand, Singapore and Indonesia, who spoke highly of Vietnam's active contributions to regional and international issues.
He affirmed that the US parliament always paid attention to and strongly supported multilateral and peaceful solutions for the East Sea issue and cooperation in the sustainable use of the Mekong River water with a view to maintaining regional stability and development.
That was the reason why the US and ASEAN countries needed a closer relationship in economics, trade, culture and security, he said.
On the same day, Deputy Prime Minister Nguyen Xuan Phuc received Senator Webb also in Hanoi.