Viet Nam will continue creating favourable conditions for UK companies to domestically engage in long-term, effective and stable business operations related to finance and banking, insurance, energy, aviation and real estate.
National Assembly Chairman Nguyen Sinh Hung made the affirmation while receiving UK Secretary of State for Business, Innovation and Skills, Dr Vince Cable, in the capital yesterday.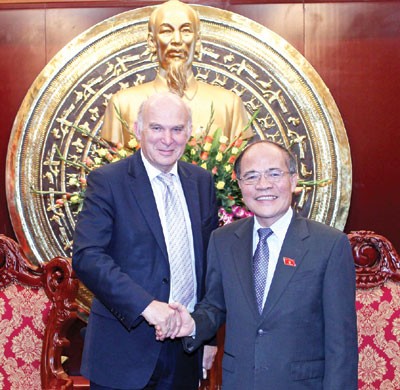 NA Chairman Nguyen Sinh Hung (right) welcomes UK Secretary of State for Business, Innovation and Skills Vince Cable
Applauding the UK Minister's visit, which took place in the context of comprehensive strategic partnership development between the two nations, the NA leader stressed that Viet Nam attached much importance to strengthening its friendship and cooperation with the UK.
He suggested the UK continue supporting and facilitating cooperative activities with Viet Nam in the fields of culture, education, security and defence and act as a bridge for the country to strengthen its ties with the EU.
Chairman Hung thanked the UK parliament and people for their support for Viet Nam over the past years, especially in ODA provision towards socio-economic development.
Emphasising the status of the UK's financial markets, the NA leader called on the UK to help Vietnamese businesses access and cooperate with these markets, particularly in terms of securities and banking.
Viet Nam would additionally like to cooperate with the UK in mechanical engineering, agricultural product processing, chemical development, health care, education and training.
Minister Vince Cable said his visit was aimed at promoting UK business investment activities in Viet Nam.
He suggested the two sides speed up the implementation of signed projects, adding that the UK was accelerating a number of its investment projects in Viet Nam, including the construction of a university in the central city of Da Nang and the opening of direct air routes.
On the same day, Minister Cable was received by Deputy Prime Minister Hoang Trung Hai