Yesterday evening, Japanese Prime Minister Shinzo Abe opened a conference and a banquet to welcome the Vietnamese high- ranking delegation.
At the conference, the leaders expressed their pleasure at strong friendship and cooperation development between the two countries in previous time via high-ranking delegation's visits and economic cooperative programs in the fields of high technology, agriculture, climate change, travel between Vietnam and Japan's localities.
The two leaders agreed to boost further Vietnam and Japan strategic partnership relation in the upcoming time.
Regarding the East Sea issue, two sides agreed to ensure peace, maritime, aviation security, solving conflicts via peaceful measures and under international laws, including the United Nations Convention on the Law of the Sea in 1982, the Declaration on the Conduct of Parties in East Sea (DOC) toward the early conclusion of the code of conduct in the East Sea.
Earlier, the Vietnamese PM met Japanese Emperor Akihito and Empress Michiko, adding that the first state- level visit of Japanese Emperor and Empress to Vietnam in March affirmed a good friendship relation between the two nations.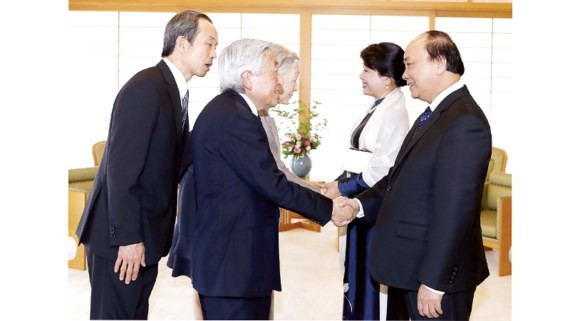 Vietnamese PM Nguyen Xuan Phuc (R) and his wife meet Japanese Emperor Akihito and Empress Michiko

The Japanese Emperor desired that the two nations would continue strengthening friendship and cooperation ties in a context of the two countries to mark the upcoming 45th establishment anniversary of their diplomatic ties in 2018.
On the same day, PM Phuc talked with Japanese Lower House Speaker Date Chuichi.
The PM said Vietnam has vast potential to grow in agriculture, science and technology, tourism...
In 2015, Vietnam listed top 10 most gender equal countries in Asia-Pacific region, and named top 30 countries in software outsourcing field In 2016, Vietnam's export turnover on telephones, computers, cameras and components reached more than US$ 55 billion.
PM Phuc desired Japan's investors, enterprises and economic groups to invest more projects in the fields of economy, high- technology into Vietnam.
On this occasion, Prime Ministers of Vietnam and Japan witnessed ministries and agencies of the two countries to exchange 14 signed documents, including four ODA projects worth 100.3 billion yen (around US$ 912 million) for maritime security and safety, the Ben Tre water management, drainage system and waste water treatment system of Bien Hoa city for the first phase and infrastructure development in Hoa Lac Hi- tech Park for the second phase; and exchange of three nonrefundable aid projects valued at 2.93 billion yen (around US$ 26.6 million) for Human Resource Development Scholarship Program (JDS) in 2017 and in 2018.