Chairman of Vietnam Fatherland Front Central Committee, Huynh Dam, has sent a letter conveying goodwill to Vietnamese Buddhist monks, nuns as well as ordinary followers in honor of Buddha's Birthday, May 28 (the 15th of lunar April).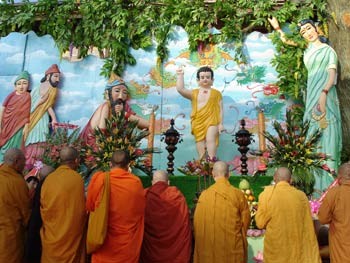 Monks participate in a ceremony celebrating Buddha's birthday, hosted at Vinh Nghiem Pagoda, in Ho Chi Minh City (Photo: Uyen Phuong)
In the letter sent on May 19, Mr. Dam recognized the Vietnam Buddhist Sangha's devoted participation in patriotic movements, solidarity campaigns, efforts promoting cultural life in residential areas and helping the poor.
He also expressed a desire that the Vietnam Buddhist Sangha would continue its contribution to maintaining national solidarity, protecting and developing the country, as a valued component of the Vietnam Fatherland Front.
Finally, Mr. Dam expressed his hope that the Sangha would accomplish many more achievements before the upcoming 6th World Buddhist Summit (to be hosted by Vietnam later this year), the 1,000th anniversary of Thang Long-Hanoi and other major upcoming holidays.