At the talks, the two leaders appreciated two- way trade relations between Vietnam and Bangladesh with its turnover by nearly US$ 900 million in 2017 and agreed to double the number in 2020.
Both sides discussed about cooperation in the fields of textiles and garments, footwear, leather products, food processing, medicine…; opening direct air route to connect the two countries.
The Bangladesh Prime Minister pledged to create favorable conditions for Vietnamese enterprises and investors into Bangladesh; and desired to cooperate learn experiences of Vietnam in the fields of agricultural produce, farming techniques, new technological application to increase agricultural productivity; and she affirmed that Bangladesh would maintain rice import from Vietnam.
Additionally, President Tran Dai Quang and PM Sheikh Hasina agreed to boost cooperation in the fields of defense and security, education, tourism, culture… , and continue maintaining mutual good cooperation relationship at regional and international forums including the United Nations, Non-Aligned Movement, ASEAN Region Forum (ARF) and Asia-Europe Meeting (ASEM).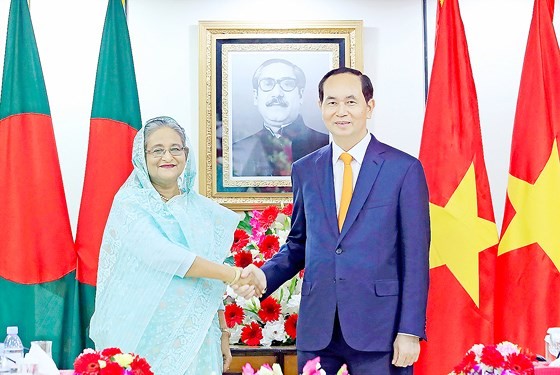 Vietnamese President Tran Dai Quang and Bangladeshi Prime Minister Sheikh Hasina

The leaders supported peacekeeping, stability, security, aviation and maritime freedom and safety in the East Sea, settlement for international disputes by peaceful measures on base of international law, including the United Nations Convention on the Law of the Sea 1982 (UNCLOS), the implementation of the Declaration on the Conduct of Parties in the East Sea (DOC) and Code of Conduct in the East Sea (COC).
After the talks, President Tran Dai Quang and PM Sheikh Hasina witnessed a signing ceremony of three memorandum of understandings (MoU) on aquaculture and breeding cooperation in the period of 2018-2022 between the Vietnamese Ministry of Agriculture and Rural Development and Bangladesh's Ministry of Fisheries and Livestock, on machinery manufacturing cooperation between the Ministry of Industry and Trade of Vietnam and the Ministry of Industries of Bangladesh, and on cultural exchange programs between the Ministry of Culture, Sports and Tourism and the Culture Ministry of Bangladesh.
On the same day, President Tran Dai Quang respectively met Bangladesh President Abdul Hamid, Speaker of the Bangladesh Parliament Shirin Shamin Chaodhury, Chairman of Workers Party of Bangladesh Rashed Khan Menon and leaders of the Federation of Bangladesh Chambers of Commerce and Industry (FBCCI).