Half-done large-scale projects for developing a shipping industrial complex and a shipyard in the Mekong Delta province of Hau Giang and a shipbuilding park in Tien Giang Province by Vietnam's leading shipbuilding group Vinashin have troubled farmers whose land has been taken for the projects.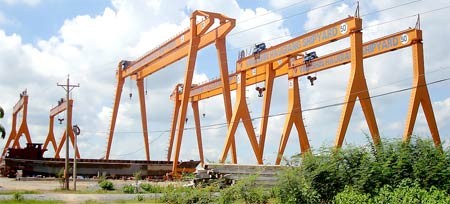 Hau Giang Shipyard under construction (Photo: SGGP)
Vinashin started work on the Hau Giang Shipping Industrial Complex and Shipyard in 2007.
The complex, which requires total investment of VND 1.7 trillion (US$89 million), would include a container factory with an annual capacity of 120,000 units, a ship engines factory, a general port, a specialized port and a wharf for lighters.
The shipyard, covering 600 hectares nearby, would be built in two phases at a total cost of VND1.1 trillion (US$58 million).
In the first phase, Hau Giang Shipyard was expected to cover 60 hectares and build vessels of up to 30,000DWR each, and its capacity would be further expanded in the second stage to build vessels of 50,000 to 70,000DWR.
Both projects should be put into operation in 2010. However, so far the shipyard has been able to build only some small vessels.
Meanwhile, farmers subject to relocation have yet to receive enough compensation for the land they have given up and be relocated.
 
Displaced farmers were paid VND50,000 per square meter for their reclaimed farmland on September 2006, but until now they haven't get compensation for reclaimed housing land.
 
Delays in providing land for relocation and giving compensation have worsened the farmers' already unstable lives due to unemployment.
 
Farmer Nguyen Van Thanh said his family has spent all compensation money for their reclaimed farmland because they have been jobless and don't have land to cultivate.
 
Pham Van Chom, chairman of the People's Committee of Dong Phu Commune in Hau Giang Province's Chau Thanh District, said displaced farmers have faced many difficulties as they have failed to find a job and their farms were taken away.
 
Mr. Chom said the project land has left fallow, while it was fat land before. The land could produce two rice crops and one fruit crop a year with production of 12-14 tons or rice per hectare.
 
Farmers could earn VND70 million a year at least from selling their crops, he added.
Also in 2007, the Tien Giang Province People's Committee approved the Soai Rap Shipbuilding Industrial Park project, which would have employed more than 1,000 people.
Vinashin planned to build the park on 285 hectare of land in rural Go Cong Dong District during the first phase, and complete the project on another 200 hectares.
According to the Tien Giang Industrial Park management board, Vinashin has cleared 200 hectares of land for the project, but yet to complete necessary registration procedures.
Farmer Chau Van Ba from Go Cong Dong District said he had nearly 7,000 hectares of forest land that could feed six members of his family, but since his land was reclaimed for the industrial park, his children have to go to neighboring areas to work.
Vinashin's delays have adversely affected not only displaced farmers but also businesses.
Tien Giang Province, for example, signed a contract with the Dong Tam Joint-Stock Company to build a clean water supply plant with total investment capital of VND1.4 trillion in 2007.
Water would be supplied to major industrial parks in Go Cong Dong District, including the Soai Rap industrial park.
The Dong Tam water plant is now operating but does not have enough customers because the industrial park has yet to be built.
As a result, the province has monthly had to offer compensation of around VND100 billion ($5.2 million) to the water plant because of its financial losses, according to the provincial People's Committee.