According to the People's Committee in the northern province of Yen Bai, at least 20 people have died and some injured from a rockslide at a mining site in La Pan Tan Commune of Mu Cang Chai District on September 7.
The People's Committee of Yen Bai Province held a press conference on September 8 to inform of the accident. At the press conference, Colonel Pham Ngoc Thang, deputy director of Yen Bai police station, said that investigating agencies will soon verify the cause of the accident and determine what caused this serious calamity.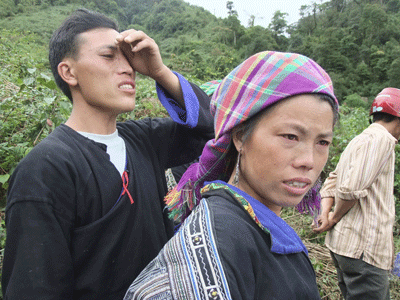 Sung A Lu cries for his sister who died in the accident (Photo: SGGP)
Ta Van Long, deputy chairman of the People's Committee of Yen Bai Province, said that rescue teams have found three more bodies and so far only one person is reported missing. He asked provincial authorities to focus on finding the missing person and offer solace and support to families of the dead victims.
The accident occurred at 10am when many local residents were gathering scraps of lead and zinc left over at a mining site owned by the Thinh Dat Mineral Excavating Company in La Pan Tan Commune of Mu Cang Chai District.
Among the dead victims were 16 local scrap collectors from La Pan Tan and Trong Pao Sang villages; another one was from Pu Luong Commune; and one was a security guard of the mining company. Two others were seriously injured and taken to the Mu Can Chai General Hospital.
Giang Nha Chong said he was visiting his 35-year-old nephew Hang A Ninh, one of the dead victims. Ninh is survived by three children; the eldest child is studying in a college in the northern province of Phu Tho and the youngest is in the eleventh grade. Chong said that Ninh had come to the site to earn more money to support his children's education.
Ly A Sung, a local man in Trong Bao Sang village, said one kilogram of lead and zinc sells for VND25,000-VND40,000 (US$1.2-$1.92), depending on quality. A scrap collector can earn about VND200,000 ($9.6) in a day.
On rainy days, more lead and zinc flows out from the seams, tempting more scrap collectors. During the rainy season, a man can make VND1 million ($48) a day.
At the hill village the mood is gloomy and depressed. One man's wailing can be heard out loud and clearly. His name is Sung A Lu   who is crying for his dead sister. Locals say that nine of the dead victims were crushed in the accident, with their bodies totally dismembered after thousands of cubic meters of soil and rock debris, and some giant boulders rolled on the unsuspecting people absorbed in picking up scrap heaps.