Prime Minister Nguyen Tan Dung on February 15 gave the order to start the construction of a bridge connecting Tan Vu and Cat Hai island district in the northern port city of Hai Phong, the longest sea-crossing bridge in Vietnam and one of the longest in Southeast Asia at present.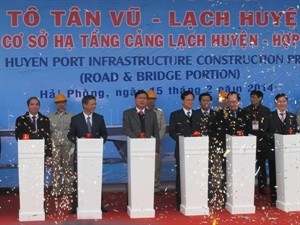 (Photo: VNA)
Once completed by 2017, the bridge project, with a total length of 15.6km, will link with developing areas in eastern Hai Phong, Dinh Vu industrial park and the Ha Noi – Hai Phong highway which is under construction.
Built at a total cost of over 11.8 trillion VND (560 million USD), over 10 trillion VND (470 million USD) of which is sourced from Japan's Official Development Assistance (ODA), it is one of two key components under a project to build infrastructure for Lach Huyen port, in Cat Hai, which will become the first international transit port in the northern region.
Addressing the event, PM Dung called for all possible resources and advanced technologies to ensure that the project meets schedule and quality.
He also asked the Ministry of Transport to work closely with the municipal agencies to clear bottlenecks and deal with any contingency arising.
The leader also thanked the Japanese Government and the Japan International Cooperation Agency for their ODA supply to the project.
He declared that Vietnam will put the Japanese-funded ODA into good use for development.