Several villages in many provinces across Vietnam are in deep mourning after news reports of a fire in a garment factory in Russia in which 14 Vietnamese workers were killed.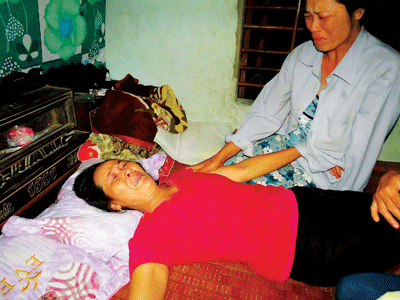 Thoai's mother Nguyen Thi Vui collapses in grief after hearing of her son's death (Photo: SGGP)
A fire swept through a garment factory outside Moscow on September 12, killing 14 Vietnamese migrant workers. Le Dinh Nhuan, party chief of Tan Ninh Commune in Quang Ninh District in the central province of Quang Binh, said that among those that died were Phan Hong Phong, 33, Nguyen Thi Thoai, 22, and her husband Nguyen Quang The, 32, all hailing from The Loc Village.
A sad and mournful atmosphere has engulfed The Loc Village where 16 residents of the village had gone to Russia as migrant labor. Phong's father Phan Van Dien was still waiting for confirmation of his son's death from Russia, while his wife was sobbing her heart out.
A fire swept through a garment factory in the town of Yegoryevsk, 100 kilometers southeast of Moscow on September 12, killing 14 Vietnamese migrant workers, announced the Ministry of Federal Emergency Situations.

Four other seriously burnt victims were hospitalized. The cause of the fire is unclear.

According to Interfax news agency, the garment factory was operating illegally.

Later on the same day, the Vietnamese Embassy in Russia sent staff to visit the scene of the tragedy and assist the injured and liaise with Russian officials.
Villagers came to meet the couple and share in their grief, as Phong was a popular and much loved boy in the village. He had borrowed more than VND42 million (US$2,018) to go to Russia, with the hope of supporting his family from there.
Most heart-rending was the situation of a couple Nguyen Thi Thoai and Nguyen Quang The, who died in the fire and left behind a three-year-old child. Thoai's mother Nguyen Thi Vui was grief stricken when she heard the tragic news.
Five workers hailing from the central province of Nghe An also lost their lives in the fire. Nguyen Danh Tue, Chairman of the People's Committee of Bao Thanh Commune of Yen Thanh District said two of the victims Nguyen Van Ngoc and Nguyen Van Thanh were cousins who have just been in Russia for 15 days. Both of them came from disadvantaged families.
Villagers and the local government were all in mourning and Tue assured that the government would lend maximum support to families of all victims.
Many of the other victims come from the northern provinces of Hai Duong, Thanh Hoa and Ha Nam.