State President of Vietnam Tran Dai Quang received Chairman of the Czech- Moravia Communist Party, Vice President of the Czech Lower House Vojtech Filip at the Presidential Palace in Hanoi on October 31.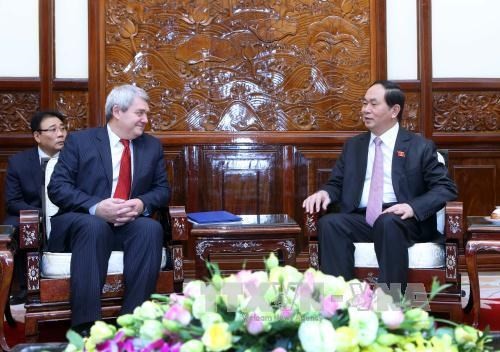 Vietnamese President Tran Dai Quang (R) receives Chairman of the Czech Republic Communist Party Moravia Vojtech Filip (Photo: VNA)
At the meeting, the Vietnamese president expressed his pleasure on good political and diplomatic ties between the two countries in the previous time via frequent exchange programs of high- ranking delegations, effective collaboration and cooperation at the regional and international forums.

The state president suggested that not only government of the two nations need to make more efforts to expand economic, trade and investment cooperation relations, but also the communist parties should continue boosting political cooperation and holding regular exchange activities because it strongly contributes to develop the bilateral relations.

Vietnam always pays attention and highly appreciates achievements of the Czech- Morava Communist Parties in the previous years, he added.

Mr. Tran Dai Quang called on the National Assembly of the Czech Republic to continue further supporting and developing the partnership and strategic cooperation ties between Vietnam and the European Union (EU); the country will soon sign the EU-Vietnam free trade agreement (EVFTA) and recognize Vietnam's market economy regulation. In parallel, Vietnam is willing to support Czech in strengthening relations with ASEAN and its member countries.

On the same day, the state president also had another meeting with Israel Ambassador to Vietnam Meirav Eilon Shahar.

At the reception, the two sides pushed ahead with signing the bilateral trade agreement, opening Vietnam- Israel direct air route. Israel wants to continue sharing its experiences on anti- climate change, science & technology, especially high technology.

The ambassador sent thanks for the warm welcome; and expressed her desire that the two countries will further cooperate and support each other at the international and regional forums, especially being in the National Unions (NU).

The trade turnover of the two countries reached at US$ 2. 3 billion last year. Therefore, the ambassador believed that Vietnamese agricultural products will early access to the Israel market in the upcoming time.