On the occasion of the 55th establishment anniversary of Viet Nam Bank, an international exhibition of bank, finance and insurance opened in Ha Noi on April 20, 2006
.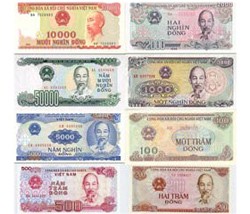 Vietnamese money
It is the first time State banks displayed a collection of Vietnamese money from the old time until now as well as documents and objects concerning history of Vietnamese money in the exhibition.
In addition to promotional activities of new products and services, organizers will call for investments for 20 projects.
This banking exhibition has so far been the largest with the participation of 120 commercial banks, securities, finance and insurance companies and supporting services.