Two unmanned aircrafts made by the Vietnam Academy of Science and Technology took off from Cam Ly Airport in Da Lat city in the Central Highlands to take aerial photographs of the country's forests and rivers.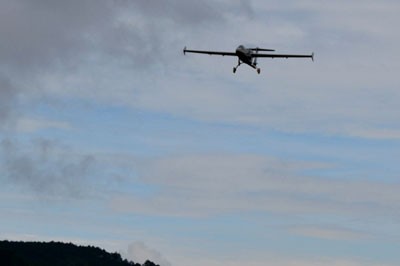 An unmanned aircraft flies across Da Lat sky (Photo: SGGP)
The two aircraft are among the 20 unmanned aircrafts manufactured by the Academy. These are equipped with cameras and will help document about 10,000 images of forests and rivers in Lam Dong Province, where Da Lat City is located.
The mission is expected to complete in three days. The 10,000 photos will be compared with other data collected from a remote sensing satellite for study and forecasts.
The Vietnam Academy of Science and Technology will put a total of six unmanned aircrafts in auto-pilot operation in Da Lat City for a science and technology program, which will study the ecosystem of the Central Highlands.