During the working session of the ongoing sixth session of the 13th National Assembly on November 28, legislators passed a draft amendment to the Constitution of the Socialist Republic of Vietnam.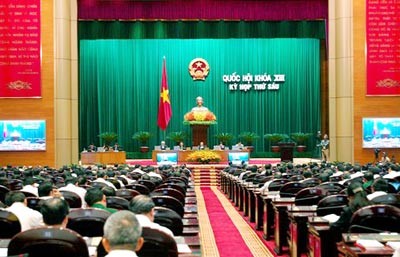 Deputies at the working session (Photo: SGGP)
National Assembly Chairman Nguyen Sinh Hung said that the draft amendment to the Constitution has been prepared very carefully.
The National Assembly and the Vietnamese people both in and out of the country have worked sincerely on the draft.
Accordingly it will represent the will of the Party and the heart of the people. The draft amendment also satisfies the demand for development and the defense of the country in the new millennium.
National Assembly deputies have discussed through three working sessions all draft amendments to the Constitution with a spirit of solidarity and understanding of the people and their desires.
Of the 488 deputies of the National Assembly, 486 or 97.59 percent voted for the draft amendment changes to the Constitution.
All National Assembly deputies approved the structure of the draft amendments to the Constitution, which includes 11 chapters and 120 articles. There is one chapter and 27 articles less as compared to the 1992 Constitution.
Legislators said the structure was well laid out.