The Vietnamese language, culture and cuisines were introduced at the 37th International Language Festival that took place in Tours city of France on Nov. 19-20.
With two display booths, seminars and film screening, Vietnam helps international friends understand more about the country.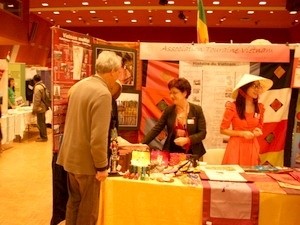 A Vietnamese booth at the festival (Photo: Vietnam News Agency)
In particular, this year's festival features Vietnam's lunar New Year (Tet) festival and many traditional customs.
Vietnamese language has become part of the annual event since 2006 thanks to the Touraine-Vietnam Association, which gathers French people in Tours city who love Vietnam and overseas Vietnamese people.
This year's event featured more than 40 different languages such as French, English, Spanish, Arabia, Esperanto and Vietnam.
Since its inception in 1995, the event has contributed to promoting diversification of language, thus bringing people worldwide closer.