The Vietnamese Embassy in Malaysia on July 22 hosted a ceremony to raise funds for Vietnamese Agent Orange/dioxin victims in response to the movement "Action for AO victims in Vietnam".
Attending the ceremony were staff of the Embassy and other Vietnamese representatives agencies, the Association of Students of Vietnam in Malaysia along with individuals, organisations and businesses of the host country.
At the ceremony, Vietnamese Ambassador Nguyen Hong Thao read the appeal of the Vietnam Association for Victims of Agent Orange/Dioxin (VAVA) to Vietnamese citizens who were living and working in Malaysia, as well as foreign friends.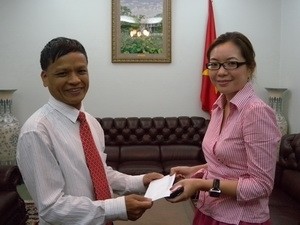 Photo: Vietnam News Agency
He appealed them to share their sympathy and join hands to help achieve goals of building centres for health care and vocational training and provide housing for AO victims in Vietnam, as well as educational scholarships to their descendants.
Thao underlined the damaging effect of AO on the life of millions of Vietnamese people.
On the first day of the programme, the Embassy collected almost 10,000 MYR (more than 3,000 USD) for the victims.
Nearly 5 million people in the country were exposed to Agent Orange/dioxin, and today around 3 million of them are living with Agent Orange/dioxin health issues, including numerous children.